Knight, Donors Cut Ribbon on Renovated Library
By Larry Peña on November 15, 2011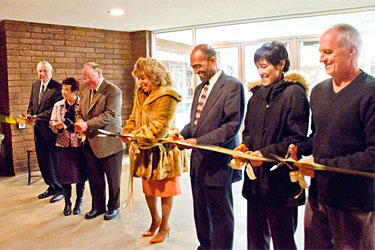 College administrators, PUC alumni, faculty, and staff celebrated the dedication of the newly renovated Nelson Memorial Library at a ribbon-cutting ceremony Saturday, November 12. Several of the project's major donors attended, and President Heather Knight, interim advancement vice president Carolyn Hamilton, and library director Adu Worku took the opportunity to thank them for their contributions.
After a dedication prayer by outreach chaplain Norman Knight, the president, along with Worku and donors Jim and Bonnie Comazzi, Hans and Nancy Boksberger, and Herb Ford cut the ribbon, welcoming in the crowd of eager attendees. In front of the new and brightly-lit group study rooms provided by Adventist Health, Knight again addressed donors, thanking them for making the renovation possible.
Academic dean Nancy Lecourt, the point person for the planning stage of the renovation, also spoke about the project, and Worku outlined the philosophy of the modern library that had developed over the 10-plus years since the plan was first conceived.
Over the course of the renovation, construction crews completely stripped the main floor of the library, removing over 50,000 books to a remote storage facility on campus. The expanded space on the floor is now brightly decorated and well lit and features several sections of study space. The main area is dominated by rows of tables with power connections for laptop computers—a vital modern resource, notably lacking before the renovation.
The main study area also features two glass-walled rooms that students can reserve for group meetings and study sessions.
The ceremony attendees overall seemed very pleased with the project's results. "It's come into the 21st century," said Bonnie Comazzi, who graduated from PUC in 1975. "It's definitely more user-friendly."
"If the students don't use it, I don't know why!" added Jim Comazzi, also an alumnus of the class of 1975. "It's all there." The Comazzis gave to the project in honor of Jim's late mother, and the central study area of the library's main floor will be known as the Comazzi Family Learning Commons.
This renovation is just the first phase of a larger library overhaul. The second phase will connect the library's main student space with the media services department. Tentative plans also call for the creation of spaces for several unique research resources the college owns, including the Walter Utt Center for Adventist History, the Pitcairn Study Center, the PUC archives, and literary collections on several Adventist pioneers and scholars.
Search
Keywords
Archive
PUC in Outside News
Campus Updates