Producer of "The Adventists" Documentary Speaks at PUC
By Staff Writer on November 18, 2011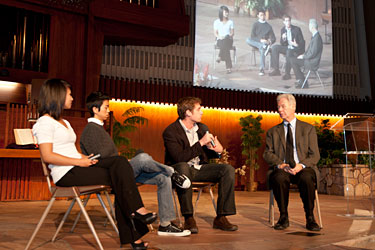 Award-winning documentary filmmaker Martin Doblmeier, creator of over 25 films including The Power of Forgiveness, Bonhoeffer, and The Adventists, visited Pacific Union College last week to address students, present one of his films, and give the college's annual Longo Lecture.
Doblmeier's engagement at PUC opened Wednesday evening with a screening of The Adventists, his documentary exploring the denomination's unique whole-person approach to healthcare. After the screening in Scales Chapel, the filmmaker spent several minutes answering questions about the film, which premiered on public television in 2010.
On Thursday morning Doblmeier faced a panel of student interviewers for PUC's Colloquy Speaker Series in the PUC Church. Following a moving clip of his film The Power of Forgiveness, students Samantha Angeles, Peter Han, and Justin Feltman took the stage with the filmmaker to ask him about his views on Adventism, justice, filmmaking, and the controversial German resistance figure Dietrich Bonhoeffer.
"The common denominator in my films is exploring the question, 'How is God working in the world today?'" Doblmeier said, responding to a question from Feltman on how he chooses his topics.
Doblmeier also discussed the complexities of showing The Adventists, a film that to a degree promotes facets of Adventist faith and culture, on public television. "Public TV is very skittish about denominational religion," he said. "But when they saw the film, they realized that it wasn't just about promoting one group—it had a broader theme that was beneficial to a wide audience." The film ended up getting an overwhelmingly positive response, and after its premiere spent several days as the number two seller on Amazon.com.
Doblmeier said that the film came about at the urging of his Adventist friends. Curious, he visited Loma Linda and then started researching the faith only to be intrigued. He said, "I became convinced that if I was interested in it, that I really cared about it, then actually it might have impact on other people. "
He was particularly interested in the notion of Sabbath as a day of rest. "As a Christian, I feel as though Sundays have been lost for most people. Most Christians will get up and go to church on Sunday and then want to paint the house on the rest of the afternoon. But the whole notion of really taking the day and calling it a Sabbath, a sacred day—was not only a good health idea… but it was the true intention of what the day was supposed to be."
Thursday evening Doblmeier presented the 2011 Longo Lecture, a lectureship series exploring topics on faith and society, to more than 200 guests. His lecture, "Through the Lens of Faith" centered around Matthew 16, with Jesus' question to His disciples, "Who do you say that I am?" Doblmeier said college student, are always asking, "What do I want to do with my life?" Instead, we should be asking, "Who do I want to be?"
Afterwards, Doblmeier shared that he is working on a second documentary about Seventh-day Adventists, focused on the international aspect of Adventist health care.
Search
Keywords
Archive
PUC in Outside News
Campus Updates