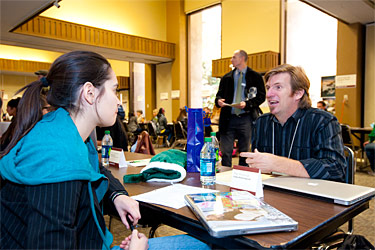 Peter Thornburgh, recently creative director at Yahoo!, was the speaker for Pacific Union College's Colloquy Speaker Series on December 1. Following his presentation, students filled the Dining Commons for the 31st annual Career Day exhibition, where over 60 consultants, recruiters, and professionals shared their experiences in the work field.
Thornburgh began his presentation by highlighting a U.S. Department of Education statistic showing that over 65 percent of today's middle school students will land jobs that do not yet exist, emphasizing the effect technology will have on future careers. Thornburgh gave students three keys to success in the technology driven economy.
First, Thornburgh urged, "Don't be average, be invested." Recalling Psalm 139:14, where David praises God for making him with such care, he said, "God doesn't make good, he makes great." Second, he said, "Let God guide." Finally, he encouraged students to take advantage of any support available, stating, "Don't go it alone…work with your colleagues."
After sharing his keys to success, Thornburgh referred to late Apple CEO Steve Jobs' 2005 commencement address at Stanford University. In the speech, Jobs urged students to look for something they love. Thornburgh repeated that advice but with a caveat: "Finding a job you love doesn't mean you'll love everything about it all the time."
Immediately following Thornburgh's presentation, PUC's Career and Counseling Center hosted the Career Day exhibition in the Dining Commons to help students find career advice and network with professionals. Over 60 consultants, each invited by academic departments, participated in the event; more than half of the consultants were PUC alumni.
The exhibition was bustling as students took advantage of the opportunity. Junior business major Oscar Villa was one of the many students who took appreciated Career Day. "I'm glad I came—this gives me a realistic idea of the workplace," he said.
Jesse Duarte, who graduated from PUC in 2005, is a reporter for the local newspaper, St. Helena Star, and a regular consultant at the event. Duarte says he sees Career Day as an opportunity for him to be honest with the students. Noting the harsh job market, particularly in journalism, he encourages aspiring journalists to be diligent—if it is truly their passion.
The event, organized by PUC's Career and Counseling Center at PUC, gives students an opportunity to hear the pros and cons about potential future careers directly from someone who works in the field. "It gives students the opportunity to check out the different careers that are available to them and how they can use their major in the real world," says PUC career counselor Laura Gore, one of the event coordinators.
Search
Keywords
Archive
PUC in Outside News
Campus Updates