Kidder Speaks at PUC; Urges Students to Improve the World
By Julie Z. Lee on October 28, 2011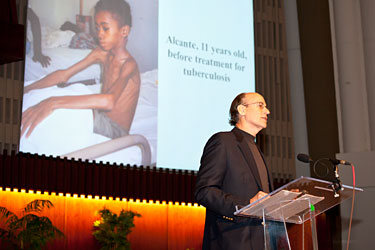 According to Pulitzer Prize-winning author Tracy Kidder, goodness isn't a virtue that people naturally embrace, particularly when you're considering the goodness of another human.
"We all tend to push away evidence of virtuousness that exceeds our own," said Kidder at a lecture at Pacific Union College. Kidder was in Angwin on October 27, 2011, as part of PUC's Colloquy Speaker Series and to discuss his book, "Mountains Beyond Mountains: The Quest of Dr. Paul Farmer, a Man Who Would Cure the World." The book is this year's selection for PUC Reads, a campus-wide book club.
Kidder shared with the audience, comprised mostly of college students, his own encounter with a character of true benevolence, what it unveiled, and how it impacted his own world perspective.
His presentation recounted the story of Farmer, a Harvard-educated physician and anthropologist who has committed his life to diagnosing and curing infectious diseases in impoverished communities. Kidder first met him by accident in 1994 while researching American soldiers in Haiti. But it was specifically the virtue of Farmer—his insistent idealism and courage—that kept Kidder from actually pursuing his story for another six years. Kidder surmised that a character "so gifted, so self-sacrificing, so passionate for the cause" would cause a reader—most of who are a lot less virtuous—psychological discomfort.
In addition, Kidder said he wasn't ready to face the reality of what Farmer was confronting in his work: the relentless adversity of people living in the developing world. Kidder said that as a seasoned world traveler and journalist, he did not expect to be shocked by the scene in Haiti.
"I had never seen anything like Haiti. So much misery and unnecessary sickness … starving children at the airport, women giving birth unattended at the sides of dirt roads," Kidder recalled.
While he recognized that the doctor would make an intriguing subject for a book, Kidder also knew he would have to confront Haiti once more since Farmer's international health organization, Partners in Health, worked extensively in Haiti.
"This problem of goodness isn't just a literary problem. It's also a personal problem. The personal problem is that good provokes and forces us to think about things that we would rather not think about," said Kidder.
When he returned to the United States from that trip in 1994, Kidder reflected on what he had seen, trying to reconcile the situation in Haiti with his own life in the United States.
"[I tried to] hang on to my belief that I had earned all my privileges," said Kidder. "The problem with taking a notion like that … it begins to fall apart the moment you ask yourself the simplest question, which is 'What if I had been born a Haitian peasant?' What would my privileges look like then? And I knew, I just knew that if I started following Paul Farmer around, it would disturb my peace of mind."
It wasn't until 1999 that Kidder reunited with Farmer, eventually launching a book project that would span several years. Kidder accompanied Farmer all over the world, detailing his life and his work with Partners in Health. As he predicted, the experience changed his life.
"In my travels with [Farmer], he showed me more reasons to despair than I had ever witnessed or even imagined before. And yet it was the most exhilarating experience in my life to see what one small group of people … could begin to do to ease some of the world's dreadful problems," said Kidder.
Kidder, who now helps to raise funds for Partners in Health, closed his lecture with two points. First, he asked the audience to see the world as it really is and to not fall prey to "the collective amnesia for the suffering that seems so distant but in fact surrounds us."
Second, Kidder emphasized that the goal is not to reproduce Farmer's life, but to find genuine inspiration in his example. He urged the audience to remember that the study they are doing now is not for the purpose of passing an upcoming exam but to fulfill a greater goal years from now.
Said Kidder, "If one of your goals is to find a way to improve the world, I don't think you have to worry a whole lot about improving yourself. If you begin to do the first thing, you will, by my definition anyway, have already begun to do the second."
The lecture was followed by an hour-long question and answer session with Kidder, where he discussed his writing process, how he chooses his subjects, and career advice for aspiring writers. Journalism majors were also invited to an exclusive luncheon with the author.
This is the second year of PUC Reads. "Mountains Beyond Mountains" is being featured as part of the English and Communication curricula, as well as integrated into other classes as appropriate. The PUC Reads program is designed to engage the campus in shared discussion of critical issues. The 2010 PUC Reads selection was "The Story of Stuff" by Annie Leonard, which focused on consumerism and society.
Leonard spoke on campus last April as the Green Week Colloquy speaker.
Search
Keywords
Archive
PUC in Outside News
Campus Updates