Another Year of Enrollment Growth at PUC
By Lauren Armstrong on October 20, 2011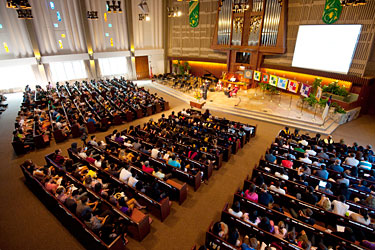 For the third year in a row, Pacific Union College is seeing an increase in enrollment figures as the new school year begins. The 2011 fall quarter enrolled 1,511 students on campus. When including the off-campus nursing and Degree Completion Programs, overall enrollment a PUC is at 1,567 students. Compared to last year, there has been a 5.2 percent growth for on-campus students and a 2.6 percent increase in total enrollment for the college.
"Pacific Union College is absolutely thrilled with the number of students who have made PUC their college of choice," says President Heather Knight. "In terms of the campus's enrollment goals, we have actually jumped ahead a year in achieving these numbers," says President Heather Knight.
Campus spirit has also come alive with the arrival of new students. There was standing room only at PUC's Opening Convocation in October as students filled the PUC Church. The enthusiasm in the air was noticeable as guest speaker Jose Hernandez, NASA astronaut, captivated the audience. Attendance for Friday evening vespers and the Colloquy Speaker Series, a campus-wide gathering that features high-profile speakers, has also been high, with the church filled to capacity for most programs so far this year.
As for the future, Knight has a vision to consistently keep PUC's enrollment high. "Our goal is to continue to make PUC the most attractive choice academically, spiritually, and financially for our families in the Pacific Union Conference and beyond," says Knight.
Search
Keywords
Archive
PUC in Outside News
Campus Updates