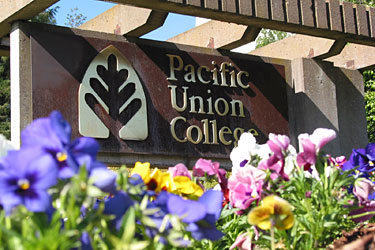 In response to a recent post by a website accusing a Pacific Union College biology professor of teaching ideas contrary to Adventist beliefs, President Heather J. Knight affirmed PUC's commitment to the Bible as the inspired word of God and the belief of God as our Creator.
"The biology department's mission is to provide an excellent education in the life sciences, based upon the latest scientific discoveries and our belief in God as the Creator of life," said Dr. Knight. "As a devoted Adventist and beloved educator who has taught at PUC for more than 21 years, Dr. Bryan Ness affirms this mission—along with his colleagues, and our students will attest to this as well. Our biology professors are scientists, so they must be dedicated to understanding contemporary issues surrounding science that sometimes conflict with specific theology. However, our professors are also Seventh-day Adventist Christians, and each is at PUC because of his or her commitment to this Christ-centered community of faith and learning."
On November 1, a website accused Dr. Ness and PUC of undermining the Bible after video of a class presentation surfaced on the Internet. The video in question, taken and posted by a student without the professor's knowledge, shows Dr. Ness leading a discussion on contemporary issues in science. The discussion was for Ministry Colloquium, a lecture and discussion series for theology majors. During the fall quarter, guest speakers led discussions on various issues confronting theologians today. In October, the religion department asked Dr. Ness to specifically present existing theories in science that conflict with our beliefs as Adventists, such as the age of the earth, the nature of the flood, and fossil records. Dr. Ness was never asked to present his personal views nor does the video show him professing personal beliefs.
At the start of the class, religion professor and Ministry Colloquium coordinator Myron Widmer provided the context for the upcoming discussion before Dr. Ness stepped up to the podium. But the posted video does not include this introduction; for unknown reasons, this important frame of reference was left out.
Ministry Colloquium is required by all PUC theology majors. Past topics have included music in the church and issues in youth ministry. The goal of the course is to prepare future pastors for dilemmas they may face in ministry while strengthening the students' faith in the Adventist Church and its core beliefs.
Search
Keywords
Archive
PUC in Outside News
Campus Updates