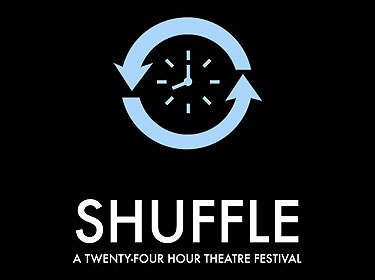 The second annual 24-hour theater festival was a big hit on Sunday evening, with people lining the walls of Alice Holst Theater and even watching from the lobby. Produced by the Pacific Union College Dramatic Arts Society, the festival was titled "Shuffle" and showcased four short plays created entirely in 24 hours.
Four playwrights were given titles (from songs) at 9 p.m. on Saturday evening, November 14. They wrote through the night and handed off their plays to directors the next morning. The directors and their teams of actors spent the day rehearsing. At 8 p.m. Sunday evening, the theater was packed with an expectant audience.
PUC film & television program director Rodney Vance wrote "The Final Slowdance"; current PUC student Peter Katz contributed "All the Things That I've Done"; San Francisco playwright Enrique Urueta wrote "Mistakes We Knew We Were Making"; and former PUC student Tim Wolcott wrote "Don't Blame it on Elvis." Five directors, 20 actors, and a crew of six brought the four brand-new plays to life.
"Shuffle" producer, PUC student, and drama program intern Timothy Widmer explained that "last year DAS produced the first 24-hour festival and it was so much fun we decided to do it again." Following the show, he also ran through the impressive list of classes and productions still to come this year, including a new work festival and new classes such as script analysis and techniques of stage production.
Search
Keywords
Archive
PUC in Outside News
Campus Updates