"Religion & Health" Presented for Inaugural Lecture
By Julie Z. Lee on November 23, 2009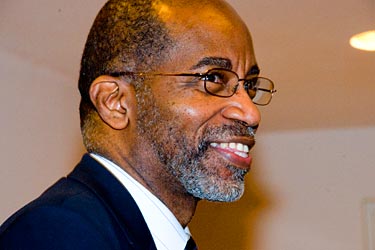 For the first lecture in the Presidential Inaugural Lecture Series at Pacific Union College, Harvard professor David R. Williams spoke about religion and the impact on American health. He presented studies examining how religious participation affects a person's health. In most cases, he said, the studies found that religious participation (regular church attendance) has a positive effect on health. Some of these positive effects include lower blood pressure, less stress, less depression, and fewer anxiety disorders.
Williams noted, however, that there are exceptions. People who are intrinsically religious people, those who consider religion to be a central and genuine focus in their life and who live their faith, are positively affected. But by contrast, people who are extrinsically religious, those who go regularly attend church as a way to give off a certain appearance or establishing status, tend to be negatively affected and experience more anxiety and depression.
Looking at the larger picture, Williams talked about the health crisis in America. In 1994, a study showed that 46 percent of U.S. adults have a psychiatric disorder. Then Williams brought it back to the church: If religion can be such a powerful tool, then we have to address the on-going question of what the church can do to make a difference in this trend.
Community members and faculty, staff and students filled Scales Chapel for the lecture, which was the first in the Presidential Inaugural Lecture Series. The series will continue to bring major speakers to PUC during the inaugural year of Dr. Heather Knight's presidency.
Search
Keywords
Archive
PUC in Outside News
Campus Updates