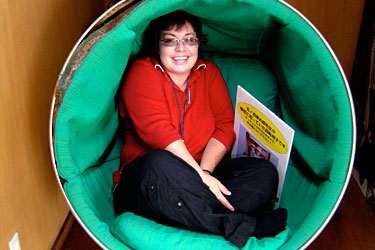 If you grew up watching Ultraman and Ampanman, you might be Japanese. If you think Ichiro Suzuki is Superman, you might be Japanese. If you can identify a literary work on a wall and immediately converse about its significance to history, culture and society, you might be Japanese. "The Japanese view reading and writing as a patriotic, nationalistic act," says Dr. Maria Rankin-Brown, professor of English at Pacific Union College. "It's like they're saying, 'We're being Japanese by reading.'"
Rankin-Brown, whose mother is Japanese, returned to the island nation for the third consecutive year this summer to continue her research on Japanese literature and literary behavior, with special focus on manga — a literary form unique to Japan. Rankin-Brown chose to research Asian literature to supplement her Great Books course's Global Perspectives subtitle, which concentrates on non-western works. Through her work, she hopes not only to publish a book, but also to find a method to motivate her American students to take the same pride and enjoyment in reading that she witnessed in the Japanese culture.
Japan is ranked among the most literate countries in the world, boasting a national literacy rate of 99 percent. This high percentage inspired Rankin-Brown to set out on a mission to find whether or not the existence of manga (similar to the comic book) affects literacy. She developed an interesting theory that the older Japanese use manga as a way of instilling Japanese values into the younger generation, who do not understand the traditional and "closed-minded" ways of the older generation. Oddly enough, the highly Americanized younger generation, however different they are from the aging population, continues to read constantly — a behavior that may be attributed to the availability of manga. Her studies on this subject are to be part of an article entitled "From Samurai to Manga: The Function of Manga to Shape and Reflect Japanese Identity," in which Rankin-Brown will explore "how manga reflects the identity struggle that the Japanese face as they negotiate an ultra-modern world influenced by old-world traditions." This modern-day society is the third in a series of social eras Rankin-Brown has studied.
Winning the Herber Grant in both 2007 and 2008, she began her research on ancient and post-World War II Japanese literature. She traveled all around Japan, interviewing museum curators, patrons of museums, survivors of World War II, and even her own family members to study the change in literary behavior that the war had brought to the country. She found that the ambiguity of Japanese culture and subsequently, literature, decreased, giving way to a new, more overtly expressive style. "A lot of [older] Japanese literature has a 'find your way yourself' feel," she says. "Themes are hidden, symbols, like the culture itself. You have to dig deep in order to find the meaning." In a culture so focused on details and subtleties, "when one appreciates these characteristics, one is simply appreciating the act of being Japanese."
Search
Keywords
Archive
PUC in Outside News
Campus Updates