PUC Marks a #1 on "Best Colleges" Listing
By Lainey S. Cronk on August 24, 2009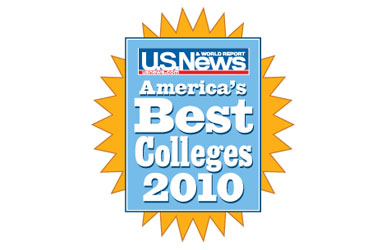 For 16 years now, Pacific Union College has been named among the best educational institutions in the country by U.S. News & World Report. In the 2010 "America's Best Colleges" issue, released online on August 20, PUC ranked number one in the baccalaureate colleges (West) region for racial diversity (not including international students). Other significant rankings included number two for most international students and number four for freshmen retention rates. In the overall rankings by region, PUC placed number 11.
"Here at PUC we have a proud tradition of strong academics; this consistent achievement is recognized by U.S. News, and we're always happy to see it," said Nancy Lecourt, academic dean of PUC. "We are also very pleased to be ranked highly for diversity and international students, since that's part of what makes PUC a rich environment for learning and growth."
One of the most well-known and widely referenced sources of college rankings, U.S. News releases "Best Colleges" material in August of each year. The book will be available in October. Data is collected from more than 1,400 colleges for each year's rankings.
Racial diversity rankings are provided based on total proportion of minority students. International students are measured in a separate category. Ranking high on freshmen retention rates is especially significant for a college like PUC. As U.S. News explains, as many as one out of three first-year students don't return for their sophomore year. Retention rates were measured on the average proportion of freshman entering in 2005 through 2008 who returned to college the next fall.
PUC is ranked in a category for institutions that focus on undergraduate education and grant fewer than half their degrees in liberal arts disciplines. High scores are based on such elements as peer assessment, graduation and retention rates, faculty resources, student selectivity, financial resources, and alumni giving.
The annual high ranking by U.S. News is national recognition of PUC's long-standing academic excellence, with seniors scoring well above the national average in Major Field Achievement Tests, the Western Association of Schools and Colleges giving PUC its most favorable rating, and students consistently getting accepted by top-notch graduate schools in their areas of study. In addition, PUC has long been known for its quality pre-medical and pre-dental programs, with very high acceptance rates for students going into medical and dental school. The college offers over 90 degrees and programs, featuring the spectrum from tried-and-true programs like the pre-medical sciences to innovative programs like the more recent film and television major, emergency services program, aviation and drama.
Search
Keywords
Archive
PUC in Outside News
Campus Updates