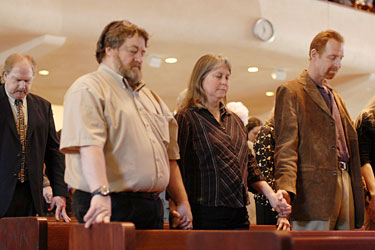 For 40 days beginning August 18 and ending September 26, the PUC community is focusing their collective prayers on special needs that impact the church and college. They call it "40 Days of Prayer," and the goal is to communally turn to God to seek His wisdom and ask His blessing for the community. The PUC church and campus asked sister churches from Northern, Central, Nevada-Utah, Arizona, and Hawaii to join in the 40 Days of Prayer.
As Adventism faces changes and constituents are challenged to see the big picture of their union and conference functions, and as PUC faces a historical year and changes in economics and leadership, it seemed like a good time to unite in specific prayer for this community. "This fall we are celebrating one hundred years in Angwin, as well as the arrival of our 21st president, Dr. Heather Knight," says academic dean Nancy Lecourt. "With enrollment numbers looking strong, we are hopeful about the future; our prayers should be both petition and thanksgiving. " PUC Church senior pastor Tim Mitchell adds that praying together can help shape our focus. "We want people to think about prayer and the movement of God among us, rather than some of the lesser discussion that often consumes us."
It's also an opportunity for the larger community to share in prayer. "I like the idea of our constituency - all of our constituency - praying for the college as a whole," Mitchell explains. " I see PUC's service as a polyhedron - with many sides, some of which individuals prefer over others, but clearly connected and unified." Praying together may help us as a community to see the larger picture.
But one of the main features of the 40 Days of Prayer is the direct practical nature - especially for students - of the requests. Some of the prayer requests are related to the day's events, such as praying for the deans and resident assistants on they day they hold residence hall staff training or praying for faculty to put Jesus on the front of their agendas on the day of the new faculty reception. Others are requests for blessing and protection for student missionaries or for "students to meet new friends who will influence them for good." Many of these requests, Mitchell points out, are for relationships. "Relationships shape us more than the book knowledge we receive, in my opinion," he says.
People gathered by the church doors on the first evening, and the 40 days will end with a 40-hour prayer vigil that concludes on the first Sabbath of the new college term. "Prayer seems like the ideal response to our needs and opportunities," said Mitchell. "It's the unity of human effort with Divine vision and power."
Search
Keywords
Archive
PUC in Outside News
Campus Updates