PUC To Celebrate 100 Years in Angwin
By Lainey S. Cronk on September 1, 2009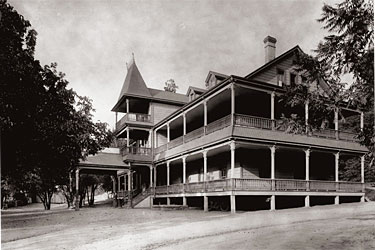 Pacific Union College is celebrating its 100th anniversary in Angwin as a campus and church. The community and PUC alumni and friends are invited to a celebration weekend starting on Friday night, October 2, 2009.
Jonathan Henderson, PUC alumnus and pastor of the Grand Avenue Adventist Church in Oakland, will be the special guest speaker forFriday vespers, held in the PUC Sanctuary at 8 p.m.
On Sabbath, pastor and professor Lou Venden will speak for the 100th anniversary church service at 10 a.m. at the PUC Church. Venden is a professor emeritus of religion at Loma Linda University, and he was the pastor of the PUC church for several years as well as PUC's religion department chair. The service will be followed by a potluck,historical campus tour, and hike to Window Tree Valley.
The evening activities will also include an Evensong program at 6 p.m., an art show opening reception at 7 p.m., and a music concert at8 p.m.
For more information about the day's events, call (707) 965-6303.
Celebration Schedule
Time
Event
October 2, 2009
8:00 p.m.
Vespers worship with Jonathan Henderson
PUC Church Sanctuary
October 3, 2009
10:00 a.m. - 11:30 a.m.
Centennial Worship
PUC Church Sanctuary
11:30 a.m. - noon
Fellowship
Church Patio
Noon-1:30 p.m.
Potluck (bring entree, side, or dessert)
Paulin Hall Fountain
2:00 p.m. - 4:00 p.m.
Campus Historical Tour (self-guided; see church program)
3:00 p.m. - 4:30 p.m.
Hike to Window Tree Valley and Beyond
Meet at Airport
6:00 p.m. - 6:45 p.m.
Evensong
Sanctuary
7:00 p.m.
Art Show Opening Reception
Working Out: Artists with Developmental Differences
Rasmussen Art Gallery
8:00 p.m.
Fine Art Series: Concert
Sherrick Hiscock & Ken Hardin
Paulin Hall
Search
Keywords
Archive
PUC in Outside News
Campus Updates