Alum Lisa Breckenridge Enjoys Entertainment Journalism with Fox 11
By Larry Pena on July 10, 2009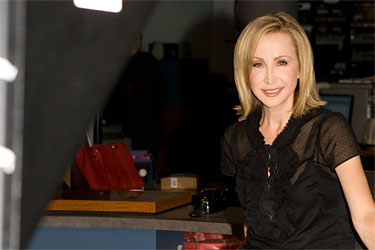 Lisa Breckenridge interviews celebrities for a living, on television, in the largest media market in the United States. She is entertainment and lifestyle anchor for Fox Los Angeles's 11 Morning News, the Fox 11 News at 10 a.m., and the Fox 11 News at Noon and occasional stand-in for the anchors of these shows as well as the hugely popular Los Angeles morning show Good Day LA. It's a pretty heady job for someone who claims she was the boring kid at Pacific Union College.
"I was the kid who never wanted to get into trouble!" she says, laughing. "I was the one who was always in bed by 8 o'clock."
Her only shenanigan, she says, was during her 1986 campaign for Student Association Social Vice President, when she dropped her skirt onstage as part of a skit about not resorting to sensational gimmicks to win the election.
She's come a long way since then. There have been no recorded "wardrobe malfunctions" at any of her jobs on live television. She has also stepped into a life that could be described as a little less boring. "Whether I am on the red carpet getting a kiss from George Clooney or sitting across from Sarah Jessica Parker, it's all fun," she says.
Lisa graduated from PUC in 1987 with a bachelor's degree in public relations. Her first step into a journalism career was an internship at KFTY TV in Santa Rosa, Calif., and a summer program at Stanford University's Mass Media Institute of Broadcast Journalism.
After finishing at Stanford and doing reporting stints in Yuma and Reno, she came home to anchor the morning news on Sacramento's KCRA channel 3, a station she had grown up watching. "My whole dream was to … work at KCRA," she says. "Once I got that I really felt like the goal had been achieved."
She reported hard news-floods, earthquakes. She covered the Polly Klaas murder and trial. She served as an official state witness to an execution. One of the most difficult stories she ever reported was when a drunk driver killed a high-school student. "I remember knocking on that family's door and asking if I could talk to them, and having to prepare the story for that night," she tells me. "What was weird was to look back at my life more than a decade ago and realize just how painful those days could be when you were really watching the breakup of a family and the destruction of a life."
Then she got a job as entertainment and lifestyle anchor at KTTV in Los Angeles. "They created this position for me, which was really wonderful," she says. She was glad to make the switch from hard news to entertainment journalism. "The one thing that is nice for me now is not having to knock on someone's door who has just lost a loved one," she says. "I'm doing lighter news now; it's like being in the toy department. I get to have fun."
The topics and format of her work at KTTV are also conducive to her other important role: mom to a set of four-year-old twins. "I have the perfect mom job in that I am done by noon," she says of morning show work. "I'm there to pick them up every day at 3:30 and I'm there with them all afternoon. And when I'm there I'm one hundred percent their mom."
Not everyone has an opportunity to find their dream job, but this "boring" PUC grad seems to be one of those lucky few. "As long as they'll let a 44-year-old woman be on TV in LA, I'll be here," Lisa laughs. "It's more than I could ever hope for."
Search
Keywords
Archive
PUC in Outside News
Campus Updates