Painters Convene for 2009 Summer Art
By David Ranzolin on July 8, 2009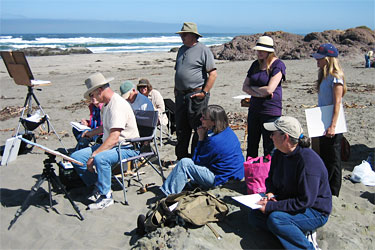 Summertime at the Albion Field Station is a refuge for aspiring artists of all ages, occupations and abilities. Started by former Pacific Union College professor of art Vernon Nye some 42 years ago, the Summer School of Art at convenes at Albion each summer, teaching courses in oil painting, watercolor painting, and acrylic painting, with an additional class in digital photography added more recently. The painting program runs for two weeks each June - this year, it ran June 14-26 - with the digital photography course offered in July.
"The art camp is designed for individuals who want to study with professional 
artists as well as a tradition of artists coming together for two weeks of 
doing what they like and learning from one another," says Gilbert Muth, field station director and a long-time supporter of Albion's programs. It's also a chance for artists of all levels to come together for relaxation and spiritual nourishment.
The participants of the painting courses are instructed how to portray a variety of natural landscapes through their brush strokes. A typical day begins with the group traveling together to one of the many breathtaking vistas surrounding Albion and the Mendocino Coast. The instructors (John Hewitt and Dennis Simpson) then demonstrate the appropriate techniques to capture the view - whether a portrait of the majestic coastline, tranquil river scene or brilliant horizon - before the group prepare their easels and begin their individual work. The evening is spent back at the station with lighthearted discussion and critique.
"The art class is particularly unique in that the purpose, as I see it, is to acquaint the painter (beginner to advanced) to the opportunities and challenges of painting plein air," explains Lisa Bissell Paulson, a long-time participant in the art school and a vice president of PUC. "The students notice rapid artistic growth and learning. The teachers inspire through their own work and demonstrations plus provide individual assistance throughout the day. Just the concentrated art time allows for amazing development of both design skills and technical skills."
PUC student Michelle Jelletich feels the program excels at helping each individual progress as an artist, regardless of their current artistic talent. "The teachers were very helpful and showed you the best ways to learn from your work," she says. "They spend a lot of one-on-one time with the students so you are able to learn a lot about the best ways to produce your art."
Students, faculty, staff and community members are all welcome to participate. "This two-week class is a great opportunity for anyone - artist or wannabe - to enjoy the awesome beauty of the coast, learn a skill, and create your own pieces," says Paulson.
For more information, visit www.puc.edu/albion.
Search
Keywords
Archive
PUC in Outside News
Campus Updates