Summer School of Art: Painting on the Coast
By Lainey S. Cronk on July 2, 2008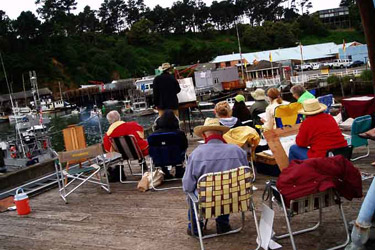 Every summer for 41 years, artists have been convening at the Albion Field Station on the Mendocino coast. There, the Summer School of Art brings people of all ages, all levels of expertise, and from a variety of places together in a green valley beside the Albion River estuary.
The station, run by Pacific Union College, was established in 1947 in "Happy Valley", former home of a lumber mill and a sheep-grazing area. Over the years, the station has been used for biology studies, group retreats and family getaways, workshops and classes, and outdoor schools for elementary students.
In 1967, the Summer School of Art was started by renowned watercolorist Vernon Nye, then chair of PUC's art department. John Hewitt and Dennis Simpson, now teachers at the school of art, were both students of Nye's. This year, Nye returned to join the group for a few days.
The two weeks of the course are characterized by family-style art and exploration typical of the field station. Painters range in age from early 20s to 80s, and many of them are returning participants who have fallen in love with the experience. Many bring along family members who take advantage of the tidepools, beaches, wildlife viewing, boating, and tourist attractions of the area. The rustic cabins have an updated charm with recent extensive renovations (including individual bathrooms on each cabin), and Wil Cook, the station manager, comments that many people from this group and others have been very pleased with the new bathrooms and the comfort of the rooms.
The painters spend each morning and early afternoon painting at outdoor sites (beaches, barns, a state reserve area, the town of Mendocino) whenever the weather permits. The instructors open the sessions with painting demos, instruct in watercolor, acrylics, and oil paints, and lead evening critique sessions back at the field station.
From the kids who ride their scooters down the main "road" of camp to the long-time artists who have seen Albion in all its phases, the Summer School of Art is a chance to get away and revel in the beauty and richness of this coastal area.
To find out more about the Summer School of Art and other opportunities at the Albion Field Station, visit www.puc.edu/albion.
Search
Keywords
Archive
PUC in Outside News
Campus Updates