PUC Adds Environmental Studies Major
By Carissa Smith on June 19, 2008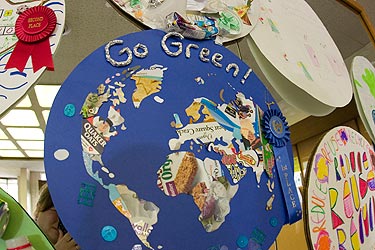 In the fall of 2008, Pacific Union College students will be offered a new major in environmental studies. The interdisciplinary Bachelor of Science degree will be based in the biology department and allow students to choose a specialization from a variety of course electives.
The major was established because of numerous requests from students in the environmental science class, taught by associate professor of biology Floyd Hayes. "We decided to submit a proposal in which the degree could be offered without hiring a new faculty member, but asked for a full-time laboratory coordinator to assist us with our teaching loads," Hayes says. The original environmental science course has now been split into three sections as part of the curriculum for the new major.
PUC is the perfect place for this program, with its natural setting and location in environmentally conscious California. "Green" awareness and commitment on campus has increased with projects such as Green Week, a Green Club, discussions about the eco-village project, and the building of our own cogeneration plant several years ago to supply the college's electrical, heating and air conditioning needs with cutting-edge, forward-thinking energy production.
This setting, Hayes explains, will benefit the new major: "Instruction here would be enhanced by PUC's management of its own cogeneration plant, water supply, wastewater treatment plant, recycling plant and forest reserve, as well as PUC's proximity to an agricultural preserve, public lands, power stations, and large cities dealing with issues of air quality, water availability, rapid development and congested traffic."
Students will learn through hands-on and out-of-classroom experience, leading to real-life and physical understanding of environmental science. "We are surrounded by interesting opportunities for field trips, practicums, and internships," says academic dean Nancy Lecourt. "Our belief that God created and sustains the world moves us to educate students who will be involved in caring for the planet."
Job prospects in the field are broad and continue to grow. Positions around the world are available in areas including natural resources and conservation, environmental education and advocacy, and renewable energy. Options include environmental internships and fellowships with non-profit organizations, full-time positions with government agencies, and higher education. The bachelor's degree in environmental science prepares students for entry-level environmental careers or for graduate work in related fields.
Lecourt explains, "We are thrilled to be able to offer this major, which will allow our students to find work restoring and safeguarding the natural environmental and making life better for humans for whom it is home."
Search
Keywords
Archive
PUC in Outside News
Campus Updates