SIFE PUC: Face-to-Face in the Community
By Lainey S. Cronk on July 16, 2008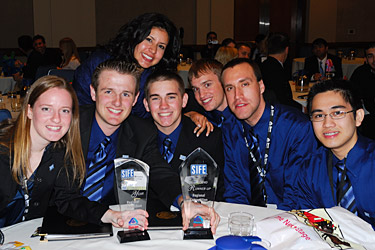 This year, a SIFE team formed at PUC, bringing three significant projects to the campus and community — and winning recognition at the regional competition.
SIFE, or "Students In Free Enterprise," is an organization for university students around the world to help their communities and to develop business leadership skills. Each year, SIFE teams take their written reports and live presentations to a series of competitions judged by panels of business leaders.
The PUC business department decided to start a SIFE team at PUC this year. Wally Lighthouse, JD, CPA, associate professor of business administration, and the SIFE PUC sponsor, explains that SIFE participation can benefit students because it's a big draw for employers. "SIFE participation is looked upon favorably by a number of major employers for recruiting and hiring purposes," says Lighthouse, who has already been contacted by Unilever, a major consumer products company that recruits from the SIFE alumni pool.
Lighthouse recruited students and built a SIFE team with elected student officers. The team then embarked on three community projects, all managed and staffed by student team members: a Dollars and $ense program, a business lecture series, and a public service announcement (PSA) on anti-piracy.
The Dollars & $ense program reached out to elementary schools in the Napa Valley to help teach young kids the value of saving money and the importance of financial literacy. SIFE PUC partnered with the local Silverado Credit Union, which assisted in the funding, to carry out this project.
The business lecture series brought successful businesspersons from the area to come share their experiences with the PUC campus and community.
Finally, the team worked with members of the film and television department to produce a PSA on anti-piracy. The campus response to this project led the SIFE team to create a new executive position called Director of Media and Technical Services, and the team plans to continue creating a PSA spot each year on various topics.
The team also has a list of ideas generated during their weekly officer meetings, and Lighthouse says "plans are underway for additional projects that should be completed next year." One area they may approach is the PUC footprint: "One of my particular interests is to find ways to decrease the campus carbon footprint, so the team is working on a couple of ideas that would help reduce campus impact on the environment."
In the meantime, the team presented their projects at the regional competition and won a Rookie of the Year award and 2nd Runner-up award. "Bringing home two trophies from the regional competition gave a big boost to the morale of the team," Lighthouse says, but adds, "However, the PUC SIFE team is not focused only on the competition but is dedicated to making a difference on our campus and in our local community." As part of that goal, the team added positions for Director of Campus Projects and Director of Community Projects.
That dedication to community is no small part of the SIFE experience. "Participation in SIFE is very similar to participating in student missionary, taskforce, or Maranatha type activities, where the student is face-to-face with the people he/she is working to help," Lighthouse says. "SIFE PUC projects are close to home, and the students see the results of their efforts in real time – either success or failure … SIFE PUC's mission is to make a difference for people in our community."
Search
Keywords
Archive
PUC in Outside News
Campus Updates