Digital Art Photography: Photos on the Coast
By Lainey S. Cronk on August 11, 2008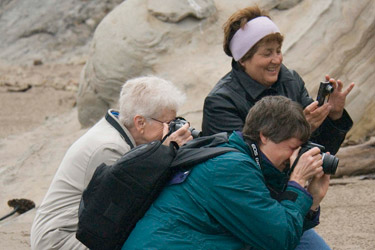 For several summers now, digital cameras (and their owners) have been collecting at Pacific Union College's station at Albion. A one-week digital art photography course brings photographers of all levels — and their families — to the cabins in the estuary valley.
This year, a group of 23 gathered, with 13 participating in the class. Under the tutelage of Marlowe Burgess, the group visited photographing points of interest such as the Mendocino Botanical Gardens, areas in and around the station and the village of Albion, the Point Arena Light House, and Bowling Ball Beach.
In addition to the photo trips, the group enjoyed lectures and lab time, where they used Photoshop to work with their photographs. The class focuses on the use of art principles and elements in digital photography, with the goal of helping students unleash their creative potential.
Wil Cook, the station manager, observed that the students were enjoying themselves thoroughly, even making plans to come the next year. "The group is made up of a number of church school teachers and many individuals that are retired and just wanting to learn more about their cameras and the many things they can do with the computer. We have the young and the young at heart here at Albion," said Cook.
The Albion Field Station is located six miles south of Mendocino on the Pacific Coast and is operated by PUC. The newly renovated Field Station offers a variety of annual workshops and classes in addition to the digital art photography class and is available for rental by outside groups. For more information about the station, visit http://web2.puc.edu/Albion/Albion_2008 or call 707-937-5440.
Search
Keywords
Archive
PUC in Outside News
Campus Updates