Career Day 2008: Job Prospects in a Changing Economy
By Lainey S. Cronk on November 11, 2008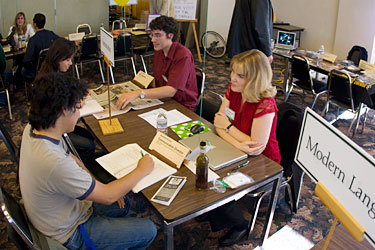 When executive and entrepreneur Chris Klinvex presented "Competing for Great Jobs: What Every Student Should Know Before Starting the Job Search" for colloquy on Career Day 2008, he was honest about the challenges, personal in his approach, and serious about the importance of God in the process.
The paradox, he said, is that "really this is not about you guys… it's about Him." He told students, "I challenge you to be very prayerful." He also encouraged them that, even in a difficult job market, there is purpose. "I really believe that you'll find your purpose when you use the brain He's given you and hold his hand. My life has gone best when I let His desires become mine."
Klinvex shared how he and two others started a new consulting company, Select International, which now provides major corporations around the world with assessment, hiring solutions, and recruiting services. Contrary to what you'll be told, he said, you don't have to sacrifice your family or your values to be a successful businessperson.
Klinvex also shared some information about job markets, advice on what to look for in a company and what to prepare for in college, and common mistakes students make in their approach to the job market. "What is your end point? Most of you have no idea. You have to know what you're going to compete for."
After the colloquy program, over 70 consultants from a huge spectrum of careers were available at tables in the dining commons to share information and advice with interested students. From REACH air medical service personnel to a grant writer, a symphonic orchestra conductor, and a clothing designer, professionals helped students consider their options, their skills, and what training to pursue.
A junior English major admitted to the writing representatives, "I'm terrified right now!" Grant writer Morgan Chinnock reassured her, "If you're willing to work hard, that will get you a long way…. And you can do things in the interim. Like the time I spent as a secretary in a law office — I learned a lot of skills that helped me get this [grant writing] job."
The advice of counseling coordinator Kerene Anglin to students was, "By taking time today to look at career possibilities, or even possible employment possibilities, you can feel better about yourself and have confidence in making one of the biggest choices as a student — selecting an appropriate career!"
Search
Keywords
Archive
PUC in Outside News
Campus Updates