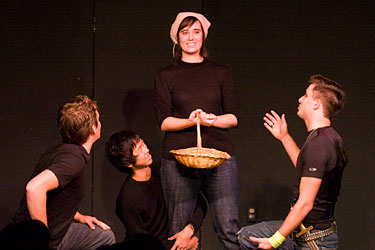 They had 24 hours to write, produce and perform one-act plays. On November 7 at 10 p.m., Pacific Union College resident artist Mei Ann Teo and drama intern Zack Dunn gathered with four writers, four directors, and 13 actors to choose their theme for the first PUC 24-hour Theatre Festival.
The participants, which included current students, alums, faculty and staff, one community member and one younger student, were divided into four teams and set out to theatrically engage the topic drawn from a hat: "legendary."
The four writers wrote through the night, and handed the scripts off to the directors early Sunday morning. At 9 a.m., the directors met with their acting teams and started blocking and memorizing. "This has been quite a journey," said Dunn, who was the event producer. He recounted the strange mix of rehearsal scenes in Stauffer Hall. "In one room, Cammie directed her actors during a crazy dance number, while directly below her, in the seminar room, Doug Gerard's team attempts the rehearsal of a serious drama about severed connections! In another room, actors sit running lines in a closet-spaced set, and I could hear the fourth group rehearsing 'Men 101' while in the downstairs copy room. Everyone was so adaptable to their spaces and circumstances, I was totally blown away!"
At 8 p.m. Sunday, Alice Holst Theater filled to standing room (in fact, some attendees had to be turned away) as curious students, faculty, staff and community members gathered to see the results – four one-act plays called "Woo, the Mary Song," "Odysseus' Return, or the Penelopiad," "The Divine Inkblot," and "Homecoming."
To the audience's awe, the results were brilliant. Articulating and exploring "legendary" — "how legends are made and unmade," as Dunn explained — with depth, humor and beauty, the four one-acts were solid and poignant.
One took a look at the legendary role of Mary, mother of Jesus. Another was the legend of the Odyssey through the eyes of Odysseus's wife, Penelope. "The Divine Inkblot" offered what might be considered a struggle between our individual self vs. our spiritual/religious/ethical conscience, with a volley of words in a "family discussion." And the final one-act dealt with the type of real-life legends we all face, as a family awaited the arrival of a father who was returning for Thanksgiving dinner after a 17-year absence.
"There are many first-time writers, directors, and actors here," said Teo when the whole group took a bow at the end. "And this sort of thing is hard even for professionals!"
The Dramatic Arts Society, which has recently organized to be a theater company with members and officers, will stage their next production, "Clay Feet/Wire Wings: The Space Between," in February. More 24-hour festivals will probably be upcoming, as well. "Performers have already been talking about doing one 24-hour festival a quarter," Dunn says. "I think I'll need to start saving up on REM cycles for the next event!"
Search
Keywords
Archive
PUC in Outside News
Campus Updates