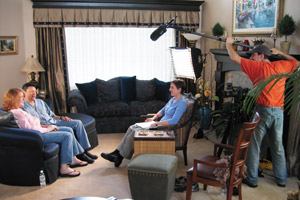 On November 18, 2006, Pacific Union College faculty members Daneen Akers and Stephen Eyer premiered their documentary film Living with Fibromyalgia at Chapman University's Folino Theatre in Orange, California. More than 150 people attended the showing, which was hosted by the National Fibromyalgia Association (NFA).
Akers and Eyer, who are married, were first introduced to fibromyalgia when Akers' mother was diagnosed with it in 2001. Watching their family hunt for good information and struggle with the implications of a chronic illness convinced the couple to make a film in order to help others dealing with the same situation. The filmmakers sold their house in San Diego to finance the documentary, and then they spent the next two years researching, filming, and in production.
The finished film features Akers as she tries to understand her mother's illness, characterized by widespread pain and fatigue. She interviews her mother and six other patients, as well as doctors and health-care providers. "I didn't originally think I would be in the film," Akers said. "But it ended up making sense—it really was our family that was the motivation for the film."
Response to the documentary has been overwhelmingly positive. Lynne Matallana, president and founder of the National Fibromyalgia Association, who is also interviewed in the film, is happy to finally have a story about fibromyalgia on film. "Living with Fibromyalgia is the first documentary to explore the most intimate feelings and life-altering experiences of seven individuals living with the daily challenges of fibromyalgia," said Matallana. "It will make you laugh and cry… A must-see for anyone who is living with or knows someone with fibromyalgia."
The film is available on DVD, and partial proceeds from sales will go to the NFA. It's estimated that as many as 8 to 10 million Americans suffer from fibromyalgia. The condition has been noted in medical literature since at least the 1800s, but was called muscular rheumatism or fibrositis. It's even suspected that Florence Nightingale, who was essentially bed-bound after her heroics in the Crimean War, suffered from fibromyalgia. Even with a long history, it wasn't until 1990 that the American College of Rheumatology published a diagnostic criteria for physicians to use. For more information on "Living with Fibromyalgia," visit
www.LivingwithFM.com
.
Akers and Eyer graduated from PUC in 1998. Akers is currently pursuing her master's degree while teaching part-time in the English department. Eyer is a full-time instructor in television and film in the visual arts department.
Search
Keywords
Archive
PUC in Outside News
Campus Updates