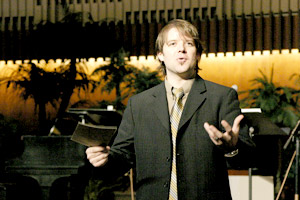 PUC chaplain Roy Ice has started a new podcast called Salvation Coach, providing "a workout for your soul." The goal of this life coaching program is not to discuss complex theological issues, but rather to help listeners find concrete answers to questions about a relationship with God.
Ice sees a need for people today, especially young people, to find relevance and realness in their Christianity: "I think this generation is finally coming to the question – and they're brazen and bold and released enough by the previous generation to ask the question – is it real? It's allowing them to truly prove what we've known all along: That this spiritual undercurrent has to be present in everything that they do, whether it's their social life or whatever."
On each Salvation Coach episode, Pastor Ice addresses issues facing contemporary Christians in real life. His first set of podcast programs is titled "Twelve Things to Try While You're Still Mortal" and features such topics as forgiveness and avoiding "get spiritual quick" diets. Ice posts the episodes at the podcast's website,
www.salvationcoach.com
, with brief text introductions and lists of key verses.
Listeners can subscribe to the Salvation Coach podcast or download episodes individually. The website also features information and a space to blog responses. Responses so far include a Southern University student who heard Ice speak in Tennessee and a Harvard Divinity student who happened on the site while doing research.
Ice has been a pastor and teacher for the last 13 years. He has helped found Conversational English Language Schools in the Ukraine, has spoken to young people nationally and internationally with his story-rich public speaking style, and has toured internationally as a drummer.
Search
Keywords
Archive
PUC in Outside News
Campus Updates