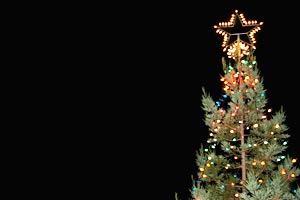 December always brings an influx of holiday festivities to the campus, including several annual events. The first weekend in December featured several of these, including the Christmas Tree Lighting and the women's Christmas open house.

Following vespers on Friday, students gathered on the campus mall in front of the Nelson Memorial Library for the annual Christmas Tree Lighting ceremony. PUC president Richard Osborn led in the countdown to the tree lighting. Students held lit candles in the dark as they sang Christmas carols and sipped hot beverages, provided by the alumni department, to combat the winter temperatures.

On Sunday evening, the womens dormitories were warm with Christmas lights, visitors' voices, and the smells of holiday goodies. The lobbies and dorms were decked out with their annual array of Christmas finery, and many girls had taken time to make their halls, doors, and rooms especially festive for the yearly women's dorms Christmas open house. Teachers, community members, and (most importantly) gentlemen could wander through the dorms visiting with residents, sampling the goodies, or critiquing the decorating schemes.

Vice president for advancement Pam Sadler, who was the judge for the door-decorating contest in McReynolds Hall, spent some time in all four dorms. "It was interesting to see the rooms and how creative some of the women have been at creating a really nice living space," she commented. "I appreciated the time and energy the women put into making their residence halls festive and inviting."

She noted one student with a list of all his friends' rooms that he wanted to be sure and see and say hello to. Other students were watching movies together in their rooms, working on computers, or playing guitars. Many of the girls had also put out snacks for the visitors.

The holiday festivities will continue with concerts, socials, and open houses until Christmas vacation begins on December 15.
Search
Keywords
Archive
PUC in Outside News
Campus Updates