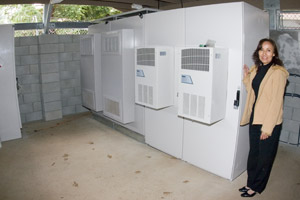 The cell phone users of Angwin are no longer limited to having phone conversations (if they're lucky enough to get one or two bars of service) at the airport parking lot. A Verizon Wireless antenna has been installed on the tower by PUC's Nichol Hall, providing coverage in most areas in a roughly one-mile radius.

Getting the antenna in Angwin was a lengthy process. PUC approached Verizon about obtaining a cell site in the area, and an agreement was signed in the summer of 2005, after which Verizon's third-party site-acquisition and construction management company went through the process of checking out the location, creating a proposal for the equipment facilities, and obtaining a building permit from Napa County.

Verizon utilized the tower already in place at the top of the campus but had to make structural changes such as reinforcing the foundation, removing lead paint and repainting the tower, installing the new antenna, and building facilities for the equipment that runs the antenna. They also landscaped around this new control facility.

Official completion day was November 3, 2006. People around campus and town were incredulous when the word began to spread that you could get cell phone reception in the most amazing places—at home, on the road, even in dorm rooms.

The benefits of the improved reception include increased ease in social, business, and emergency calls. "The local Sheriff's Department had identified a lack of coverage in the area and had contacted Verizon Wireless about adding a cell site to improve wireless communication for emergency services," says Heidi Flato, manager of public relations and employee communications for Verizon. "The site provides increased wireless coverage and capacity for Verizon Wireless customers in the area," she explains.

The down side, of course, is that teachers now have to face the cell phone music in class—a common enough occurrence on most college campuses, but a new experience for PUC!
Search
Keywords
Archive
PUC in Outside News
Campus Updates