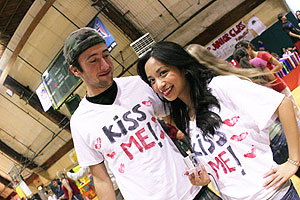 The annual Fall Festival was held in PUC's Pacific Auditorium on Sunday, November 5. The Asian Student Association, business club, French club, Polynesian club and many others took part in the event which raised funds for the respective clubs and provided students with the opportunity to sample ethnic cuisine from various regions of the world as well as enjoy other non-gastronomic forms of entertainment.

One of the largest attractions of the festival was the "Islands of Polynesia" show, presented several times throughout the night by the Polynesian club. Cultural dances of Tahiti, Samoa, Fiji, Hawai'i and New Zealand were performed by student-members of the club who graciously offered dancing instruction to several members of the crowd during each show.

Also present for the afternoon and evening festivities were approximately 350 high school seniors from 16 academies in California and Hawaii. The prospective students were invited to PUC for the weekend and given the opportunity to experience the spiritual, academic and social activities that the campus offers. Tyler Len, a senior from Hawaiian Mission Academy and the brother of junior aviation major Chris Len, particularly enjoyed the Polynesian club's show. "It was really well done. Everybody looked like they were having a lot of fun," said Len.
Search
Keywords
Archive
PUC in Outside News
Campus Updates