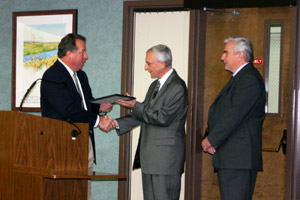 On October 24, 2006, the Napa County Board of Supervisors presented a proclamation to Pacific Union College for the celebration of its 125th anniversary. Richard Osborn, president of PUC, and John Collins, vice president for financial administration, accepted the framed proclamation from Supervisor Bill Dodd at a Board of Supervisors meeting in Napa. Pam Sadler, vice president of advancement, and Herb Ford, professor emeritus, also attended the presentation.

PUC was established in Healdsburg in 1882 but moved to Angwin in 1909. PUC is Napa County's only four-year college. More than 1,000 graduates currently occupy positions of service in the county.

PROCLAMATION

WHEREAS, academic classes commenced in early 1882 in Healdsburg, California, for an educational institution that has today become known as Pacific Union College, and that in its 2006-2007 academic year is celebrating its 125th anniversary; and

WHEREAS, the college in 1909 moved its campus from Healdsburg to Angwin in Napa County, with classes commencing on September 19, 1909, in buildings of Edwin Angwin's former widely known resort; the resort had been built on "the best 200 acres" of George Yount's 4,400-acre La Jota land grant that included all of Howell Mountain; and

WHEREAS, Pacific Union College has grown from its initial 42 students on its opening day in September 1909 in Angwin to nearly 1,600 students annually from throughout the United States and numerous foreign countries; and

WHEREAS, Pacific Union College is Napa County's only four-year, co-educational institution of higher learning, is accredited by the State of California Department of Education,; the Accreditation Association of Seventh-day Adventist Schools, Colleges, and Universities; the Accrediting Commission for Senior Colleges and Universities of the Western Association of Schools and Colleges, and is regularly listed by rating bodies as within the top tier of colleges its size and class in a 14-state area of western America; and

WHEREAS, there are more than one thousand graduates of Pacific Union College currently occupying positions of service, rank and trust throughout Napa County, thus contributing significantly to Napa County's betterment; and

WHEREAS, additional thousands of graduates of the College have served and are serving throughout the world as leaders in medical science, government, religion, at educational institutions and in business, and thus are fulfilling Pacific Union College's mission of "preparing students for productive lives of useful human service and uncompromising personal integrity."

NOW, THEREFORE, BE IT PROCLAIMED, that I, Bill Dodd, Chairman of the Napa County Board of Supervisors, on the Board's behalf, congratulate Pacific Union College on the occasion of its 125th anniversary and for the outstanding opportunities it has provided to its students over the years, and extend sincere best wishes for the College's continued success in the future.
Search
Keywords
Archive
PUC in Outside News
Campus Updates