The Class of 2006
Lainey S. Cronk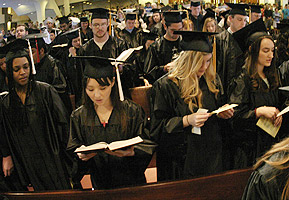 Email
| Font:
- / +
Caps, gowns, and the school banners decorated the annual Senior Recognition Colloquy on Thursday, February 9. Academic Dean Ileana Douglas presented the 345-member Class of 2006, mentioning class statistics such as numbers of student missionaries, youngest to graduate, and candidates for high academic honors.

"There is no future in any job—the future lies in the man or woman who holds the job," she reminded the class. "The torch has been passed to you."

The guest speaker for this year's Senior Recognition was chaplain Sam Leonor of La Sierra University. With humorous anecdotes and an energetic charisma, Leonor talked about the achievements and successes that we celebrate at such events as graduation. "The danger is that we begin to see our identity in these things," he said. "We see value as based on our level of achievements, and the things that are important to God get moved down the list." Leonor encouraged students to do their best and finish their college experience with a flair, but also to dedicate their lives to building the kingdom of God here, now. "May God give us the courage to give our lives to building the kingdom of God and proclaiming the One to come," he concluded. "And may that be what gives us satisfaction."

Note: This is an archived article and does not necessarily represent current issues at Pacific Union College.