Contributions Fund a House in Nicaragua
Lainey S. Cronk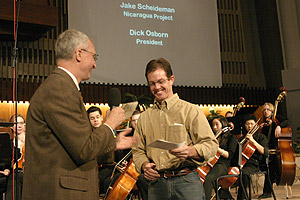 Email
| Font:
- / +
At the all-school colloquy on April 6, Pacific Union College President Richard Osborn presented alumnus Jake Scheideman with a check for $8,388.

About two months earlier, Scheideman shared at a colloquy program about his housing project in Nicaragua (see "A Spontaneous Gift: Students Send $8,000 to Nicaragua" ). At the end of his story, students, faculty and staff made donations and pledges toward funding one of the houses in the Nicaraguan village, which cost about $6,000 each to build.

On April 6, the total amount was presented to Scheideman and the St. Helena Rotary Club, which oversees the project. "This is humbling, and outstanding!" Scheideman said. He hopes to use the money to fund one of the houses in the most recent building phase, which will be completed at the end of May.

"We can all do something," Scheideman told the audience. "As educated Americans we have a responsibility to do something for our world—and it's fun!"

Note: This is an archived article and does not necessarily represent current issues at Pacific Union College.