Celebrating Memories, Friendships and Campus Life
Lainey S. Cronk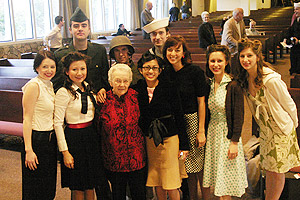 This April brought the usual flood of alumni and special events for Homecoming Weekend, but it also brought a new level of involvement from current students with an SA-sponsored Heritage Week leading up to Homecoming. SA president Juliana Dalotto led the campus in the week-long celebration of the past, complete with students dressing up in era costumes, lunchtime music, and evening movies from each decade. Students also made displays showing old photos of their dorms.

The highlight of the week was colloquy on Thursday, when Helen Lee, PUC's second-oldest alum and a graduate of the Class of 1936, told tales from her student days at PUC. "Though we get old, we were young at one time," she said, "and we were not much different than young people now." Students were in stitches over the stories and remarks of this 92-year-old veteran missionary and even gave her a standing ovation.

Lee concluded with some passionate advice for PUC students: "I hope that each one here leaves knowing how to differentiate between 'pitcher' and 'picture,' when to use 'lie' and 'lay,' and when to say 'you and I' and when to say 'you and me.'" When the laughter died down, she added, "I hope you'll remember this school was established to train workers for God and the church. Keep close to the Lord in your decisions, and he will bless you."

Heritage Week was followed by Homecoming, and current students continued to be involved in the festivities, especially the cross-generational vespers program emphasizing missions. There was also a Walter C. Utt Lecture by this year's Utt Professor, A. Gregory Schneider. Retiring biology department chair Terry Trivett and professor emeriti of music James Kempster were both honored by special receptions. And, of course, there was the usual busy schedule of music, campus tours, and class parties. Despite the rain and a record low supply of Diogenes' Lanterns, the alumni kept the campus lively and full of good cheer for the annual celebration of memories, long-time friendships, and campus life over the decades.
Note: This is an archived article and does not necessarily represent current issues at Pacific Union College.