Keeping In Touch
Lainey S. Cronk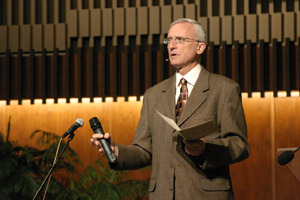 Email
| Font:
- / +
PUC President Richard Osborn has been elected to serve as the vice chair of the Association of Independent California Colleges and Universities (AICCU), a Sacramento-based association that represents non-profit, independent higher education in the state.

Osborn's vice chair position will eventually progress to the role of chair of the association, which represents 77 institutions with the state and federal government. Members of the AICCU range in size from Stanford and USC to smaller institutions like PUC.

Osborn has experienced the positive networking opportunities that a willingness to be involved can bring to the Adventist educational system, and believes in cultivating these opportunities. "From the time I first began teaching elementary school," explains Osborn, "I have felt an obligation to give back to my profession and to learn from others by being active in professional organizations. This helps break down barriers we create and helps others understand our church better."

Note: This is an archived article and does not necessarily represent current issues at Pacific Union College.