Search - Richard Clark, Jr.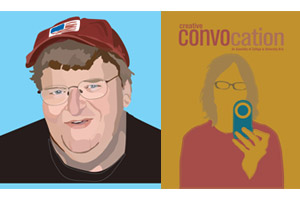 By Richard Clark, Jr. on July 27, 2006
Two Pacific Union College students are featured in recent editions of Creative Convocation, a magazine showcasing student art and design. Mike Murtaugh's illustrated portrait of Michael Moore was featured in the Winter 2005 issue, and Bradley Kenyon's illustrated self-portrait was featured as first honorable mention for cover design in the Spring 2006 issue. The artwork was completed for Illustration I, a class required for graphic design majors. Milbert Mariano, who teaches the class, encouraged students to submit their projects to Creative Convocation, which accepts submissions from students in undergraduate or graduate programs throughout the United States and Canada. Murtaugh, a senior graphic design and photography major, chose a piece that exemplifies his social consciousness. He says he selected Moore as the subject of his piece because he is an interesting figure in the political world and is famous for his filmmaking. "About this time his new film had come out criticizing the war in Iraq and the Bush presidency," Murtaugh explains. This specific subject "forced the viewer to think about the situation in Iraq and the consequence of war even if they agree or disagree with Moore's point of view." Last school year Creative Convocation held a competition to create...
Read Story
---