Search - Carissa Smith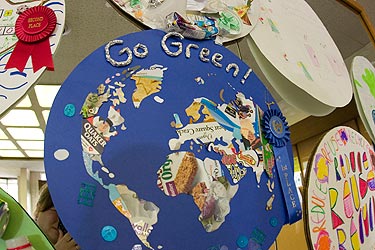 By Carissa Smith on June 19, 2008
In the fall of 2008, Pacific Union College students will be offered a new major in environmental studies. The interdisciplinary Bachelor of Science degree will be based in the biology department and allow students to choose a specialization from a variety of course electives.The major was established because of numerous requests from students in the environmental science class, taught by associate professor of biology Floyd Hayes. "We decided to submit a proposal in which the degree could be offered without hiring a new faculty member, but asked for a full-time laboratory coordinator to assist us with our teaching loads," Hayes says. The original environmental science course has now been split into three sections as part of the curriculum for the new major.PUC is the perfect place for this program, with its natural setting and location in environmentally conscious California. "Green" awareness and commitment on campus has increased with projects such as Green Week, a Green Club, discussions about the eco-village project, and the building of our own cogeneration plant several years ago to supply the college's electrical, heating and air conditioning needs with cutting-edge, forward-thinking energy production.This setting, Hayes explains, will benefit the new major: "Instruction here would be enhanced...
Read Story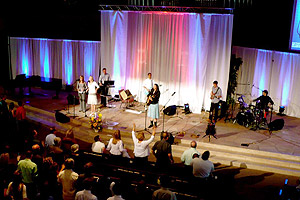 By Carissa Smith and Lainey S. Cronk on April 1, 2008
The first service at the Pacific Union College Church commences with the rich tones of the Rieger organ. Not long ago, this "early service" started at 8:45 and housed a very small congregation, mostly white-haired. Now the first service is called the Majestic and starts at 10 a.m. It is purposeful in presenting a quality traditional service, and is more intergenerational and attended by about four times as many people as before. These positive changes are part of a larger picture that includes both worship services (the Majestic and the Gathering, which meets just after noon). Led by senior pastor Tim Mitchell, worship and outreach pastor Jessica Shine, and campus chaplain Roy Ice, the church recently began to take a good hard look at the weekly services and the congregational community. Some of the problems they faced were low attendance at the early service, frustration with the blend of elements in the second service, and the need for a sense of community that carries over from week to week. "We asked ourselves, what does the congregation need?" Shine recounts. Church members filled out surveys; and focus groups made up of people from a wide spectrum of ages and roles met...
Read Story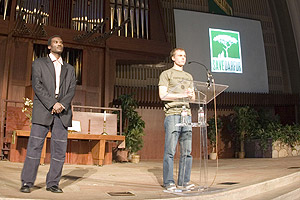 By Carissa Smith on February 14, 2008
Not many of us can say we have felt the demoralizing effects of losing 20 family members in a single day. Ibrahim Musa Adam, a former farmer and volunteer teacher, was one of two survivors from the Darfur conflict region in Sudan who shared his first-hand account for Pacific Union College's February 7 all-school colloquy program.Adam lived in northern Darfur in the village of Jadara. His village of about 3,000 was attacked in July of 2003 by the Sudanese army and members of the Janjaweed militia. Eighty villagers, including 20 of Adam's family members, were killed. Adam still has over 100 relatives in six different refugee and internally displaced persons camps, and more than 80 villages have since been attacked. "They collected women and girls. One girl was raped over 20 times," Adam told the student body at PUC, who listened in stunned quietness. "Some were able to escape because the Janjaweed don't know the Darfur terrain very well."Today Adam lives in Rockford, Illinois. He hopes to one day return to Darfur and help rebuild the region. Meanwhile, he shares his experience with the "Voices from Darfur" speaking tour and takes part in activist organizations.The second speaker at the colloquy...
Read Story
---
Search
Keywords
Archive
PUC in Outside News
Campus Updates