PUC Forest Helps Sustain Habitat for California's Rare and Threatened State Butterfly
By Laura Gang on September 5, 2023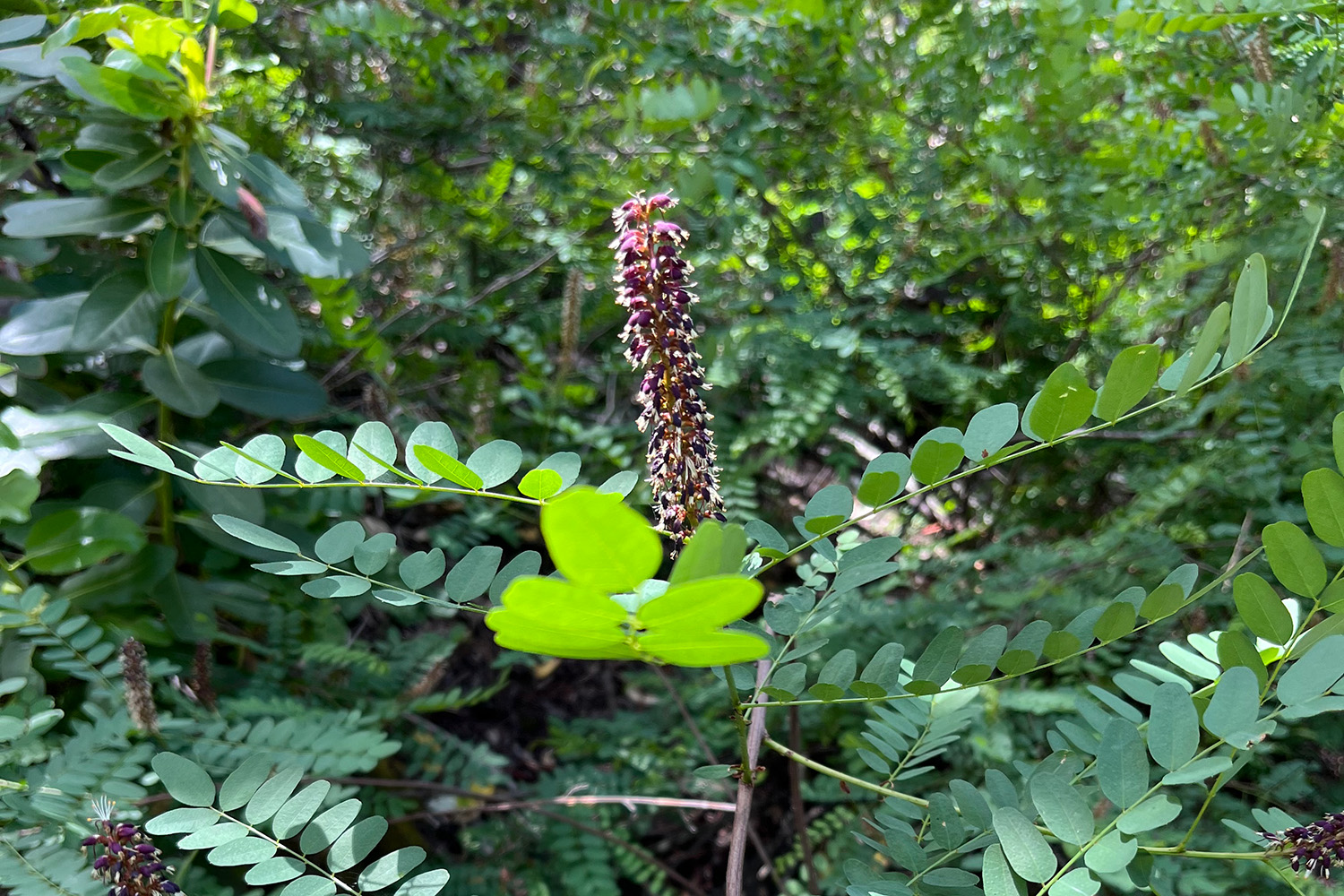 Biology professor Aimee Wyrick always knew the PUC Forest was a special place.
But until recently, she didn't know just how special it was.
Wyrick, a longtime Pacific Union College educator and dean of the school of sciences, was walking with her father through the forest this past spring, where she has spent countless hours studying plants and wildlife. They spotted something she'd never seen before—a black and yellow butterfly with a peach silhouette on both wings. 
It was a California dogface butterfly. Not only is it rare, but in 1972, it was officially named the California state insect.
The butterfly wasn't alone. Several other bright females and males quickly flitted about the wooded area, only pausing briefly to alight on dark purple blossoms with orange-tipped stamens. 
Wyrick had been surveying the PUC Forest, documenting rare native plants as part of a state-funded grant program.
Last year, the state awarded a $5 million Cal Fire Forest Health Grant to the Napa Communities Firewise Foundation with PUC as a primary partner. Nearly $3 million was given to PUC Forest for wildfire mitigation — namely fuel reduction.
In the process of forest thinning, it's important to preserve certain trees and plants that may be threatened. 
One of these rare plants was the Napa false indigo. It was one of the plants she wanted to show her visiting father on that spring walk. The plant is a subspecies of the California false indigo with a regional taxonomy. Growing only in a few coastal woodland or chaparral areas around San Francisco, the Napa false indigo is officially ranked 1B.2 — "a California plant that is rare, endangered, and fairly threatened in the state." 
Wyrick observed the butterflies feeding on the nectar of this rare plant. With her curiosity piqued, she did some additional research at home later that day.
She learned that mature California dogface butterflies rely on the nectar of the Napa false indigo blossoms and exclusively use the plant to lay their eggs. It's dependent on the plant's leaves to nurture its larva.
"Ironically," Wyrick said, "the Napa false indigo is protected on the federal and state level, but the California dogface butterfly is not." 
Providing a habitat for these plants was never intentional, she said. But because PUC has left the wildlands intact, the plants have found a home.
"We have this special area where the Napa false indigo thrives," Wyrick said. "It's not throughout the property but in certain locations. Because the property is accessible, people can come and see not only a rare plant but an even more rare species—the last of its kind."
Wyrick has become somewhat of an evangelist for protecting the plants that rare butterflies rely upon for food—not just the California dogface butterflies.
The migratory monarch butterfly has been experiencing population declines since the 1950s and was put on the IUCN Red List last year. A reduction in milkweed plants, which are larval host plants for monarchs, is likely a major factor in putting the beautiful orange and black butterfly at risk.
Dunn Vineyards owner Randy Dunn, who is committed to low-impact agriculture, contacted Wyrick about a milkweed project they could take to nearby schools. They knew there was an effort to help save these threatened species, so they decided it would be helpful if they could help plant milkweed throughout the Angwin area.
In April 2021, Wyrick took several PUC conservation biology students to visit second and third-graders at Howell Mountain Elementary School to teach them about monarchs and milkweed. A year later, in the fall, she took more students to PUC Elementary School, and they planted seeds as well.
Dunn donated the seeds for the effort. Quite by accident, he discovered that he could use a ShopVac to help separate milkweed seeds from the surrounding white fluff.
Last November, Wyrick also taught a class about milkweed to a small class at Rianda House Senior Activity Center in St. Helena.
Community partnerships are important to Wyrick and crucial in environmental conservation efforts.
"Collaboration is one of the underpinnings of conservation, and it is done best when a diverse group of stakeholders work together," she said. "People want to do something. They want to be part of the solution and answer to environmental problems. If you can make it easy and doable, barriers are removed, and more people will join the efforts."
On her walks and in her work, Wyrick is reminded of the natural beauty of California and the uniqueness of the PUC Forest. There's a trifecta, of sorts, for rare and endangered species here: Napa false indigo, northern spotted owls, and some of the easternmost coastal redwoods in the state. 
"It makes me appreciate that there are still these places like this," she said, "and thank God for PUC."
Search
Keywords
Archive
PUC in Outside News
Campus Updates