Pacific Union College Graduation Weekend Events 2023
By Laura Gang on June 14, 2023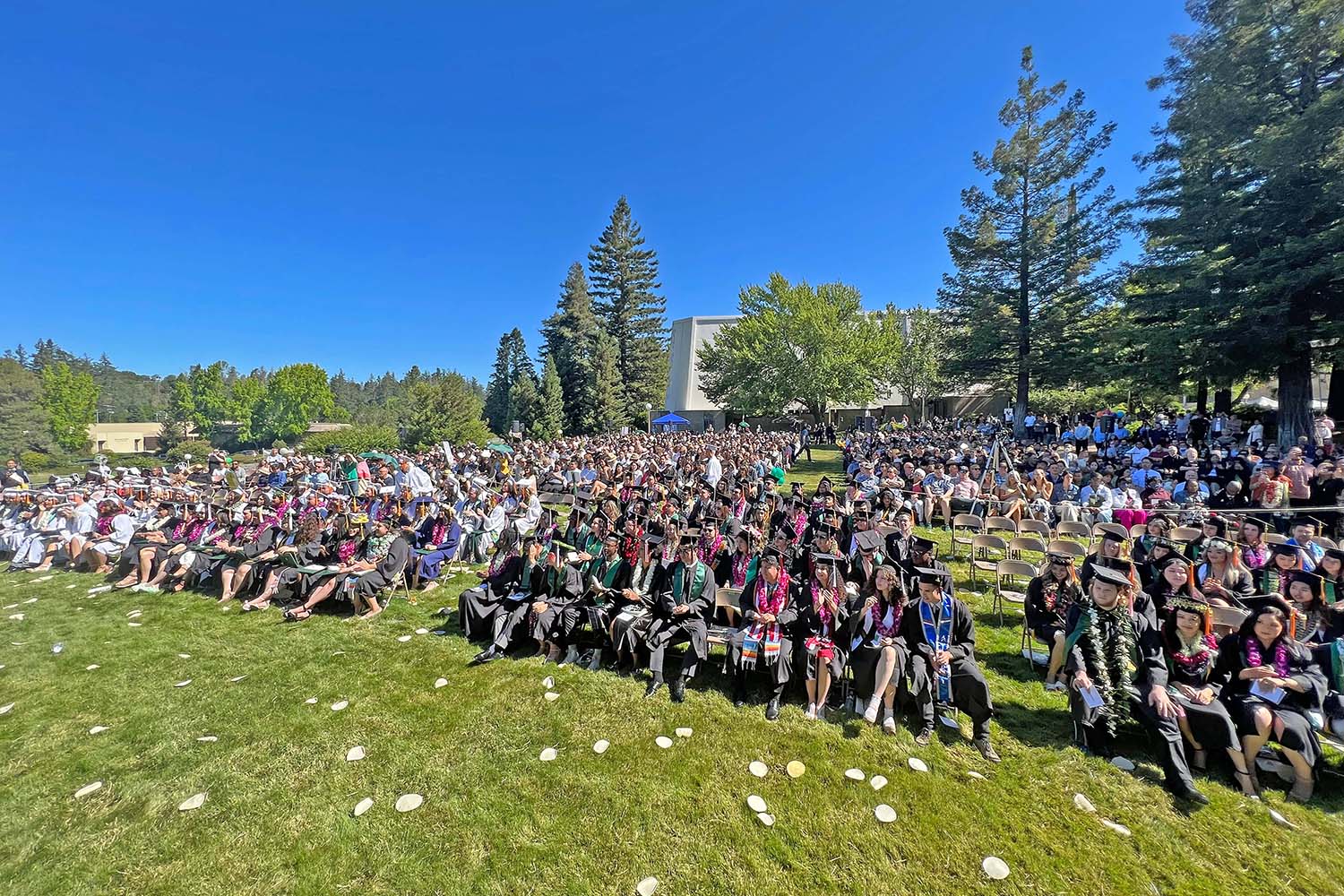 Pacific Union College will host its 2023 commencement ceremonies from Friday, June 16, through Sunday, June 18.
The college is proud to recognize the accomplishments of 219 students and will award 241 associate, bachelor's, and master's degrees. The largest group is comprised of 145 nursing and health science students, followed by biology (21), visual arts (15), business administration (14), and psychology and social work (12).
"We are proud of our high-achieving senior students, who give warmth and add friendliness to our campus, which builds a friend network for life," President Ralph Trecartin said. "This diverse class is exceptionally dedicated to strengthening spiritual life throughout the community and being leaders to others in all services through worship, Bible study, and outreach. It is a joyous sight to see them learn with purpose, rise in faith, and serve with love."
In the class of 2023, 15 students will graduate summa cum laude, 17 magna cum laude, 45 cum laude, and 8 with honors. Four graduates are Maxwell Scholars, who were recognized as incoming freshmen for their outstanding academics and awarded full tuition scholarships based on their exemplary academic achievements and test scores. This year's Maxwell Scholars are Melody Chana Park, fine arts major; Brenna Fillmore, biochemistry major; Hope Furukawa, a health communication major; and Nathaniel Nguyen, a biology major.
PUC, recognized as the No. 1 Best Value school in California by U.S. News and World Report, boasts 197 students from its home state, followed by Arizona, Hawaii, Oregon, and Washington. International students hail from the Philippines and South Korea.
This year's Honored speakers include James Wibberding, Chanda Nunes-Henry, Lawson E. Stuart, and Dale Galusha. Class of 2023 President Misael Bernard will also speak at commencement.
James Wibberding, PUC chair of the department of theology and biblical studies, will speak at the Consecration Service on Friday, June 16, at 8 p.m. Prior to becoming a professor, Wibberding served in pastoral ministry for 17 years in Pennsylvania, Idaho, and Washington. He loves finding fresh ways to help others know the love of Jesus and grow into leaders of the Great Advent Movement.
Chanda Nunes-Henry, vice president for administration of the Nevada-Utah Conference, will speak for Baccalaureate on Saturday at 11:15 a.m. Nunes-Henry has served as a youth pastor, school chaplain, associate pastor, administrative pastor, family pastor, and senior pastor of the PUC Church.
Lawson E. Stuart, system director in clinical practice and education for Adventist Health, will be the speaker at the Nursing Graduate Recognition Service on Saturday at 4 p.m. Lawson is a board-certified emergency nurse and licensed paramedic with over 38 years of experience. He has been an active leader in educational innovation for health care and the evolving field of high-fidelity patient simulation.
Dale Galusha, president of Pacific Press Publishing Association, will address the graduates at Commencement on Sunday at 9 a.m. Galusha, a PUC alum, is the longest-serving president in Pacific Press's nearly 150-year history.
Students and families are welcome to attend the commencement ceremonies located on the college campus at the PUC Church and Maxwell Commons. The following is a full schedule of graduation events:
Friday, June 16
4 p.m. Social Work Consecration - Scales Chapel, PUC Church

8 p.m. Consecration - Sanctuary, PUC Church

Saturday, June 17
10 a.m. Sabbath School - Sanctuary, PUC Church

11:15 a.m. Baccalaureate - Sanctuary, PUC Church

3:30 p.m. Nursing Graduate Recognition - Sanctuary, PUC Church

4 p.m. Teacher Dedication - Scales Chapel, PUC Church

5:30 p.m. President's Reception - Campus Mall (for graduates, parents, & faculty)

Sunday, June 18
9 a.m. Commencement - Maxwell Commons (near Paulin Hall)

View the livestream of all commencement events. The livestream for commencement on Sunday will begin at 9 a.m.
Full details of the commencement weekend and schedule are available at puc.edu/graduation.
Search
Keywords
Archive
PUC in Outside News
Campus Updates