Pacific Union College Announces Deans For New Three-School Model
By Laura Gang on April 4, 2023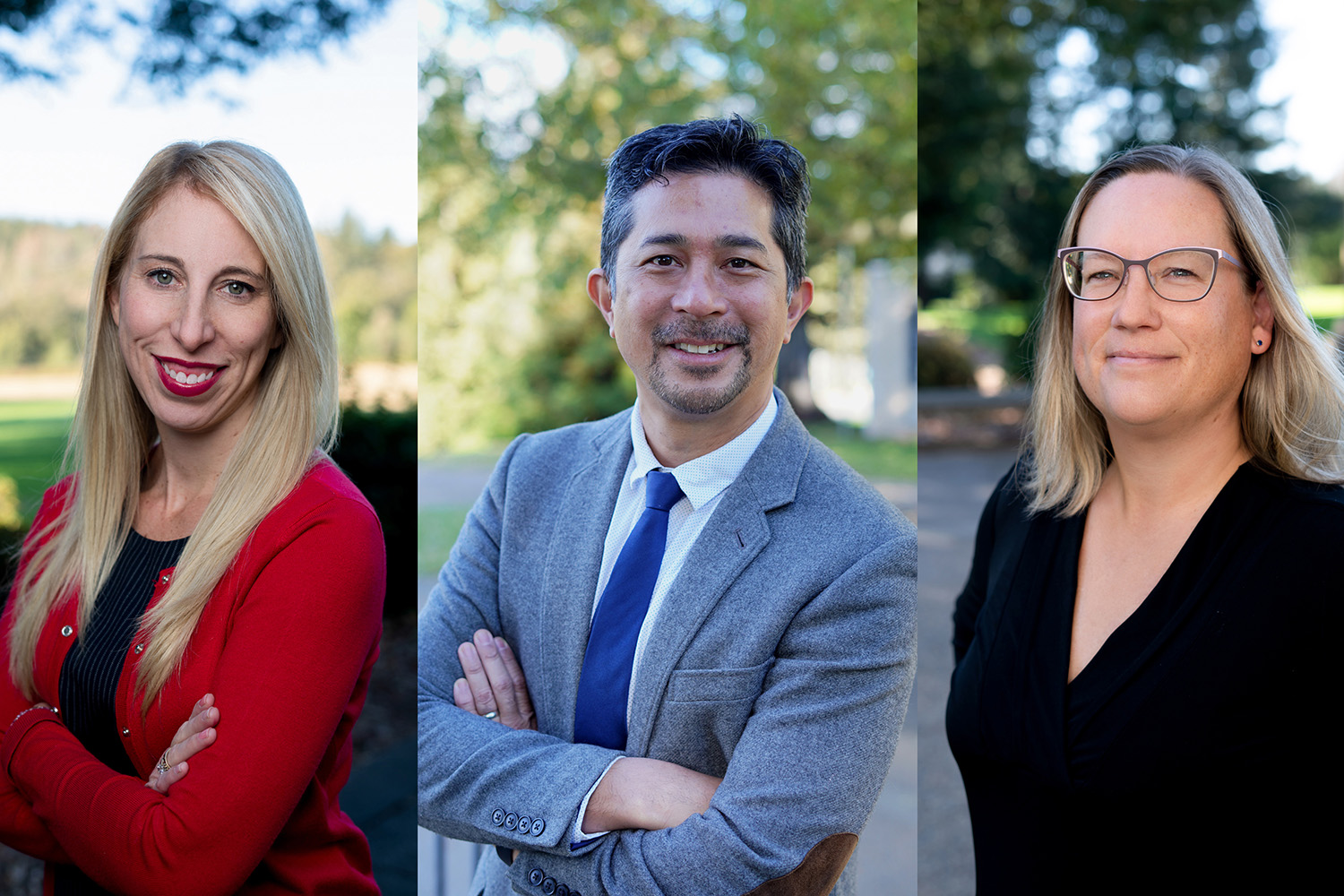 Pacific Union College is embarking on a new three-school model for the upcoming year and announced Tuesday the appointments of the deans who will help lead the efforts to maintain and grow the college's academic excellence.
PUC is committed to high-quality academic programs while maintaining the cultural, spiritual, and lifestyle base that gives students a rich, full Seventh-day Adventist campus experience.
As part of this new plan, PUC is launching the three-school model, a recommendation initiated and developed by the college's academic leadership. The three schools are Nursing & Health Sciences; Arts, Humanities, & Professions; and Sciences.
To lead each school, the PUC administration announced the following leadership appointments:
Kimberly Dunker, current chair of the Nursing and Health Sciences Department and a professor of nursing, will serve as dean of the School of Nursing and Health Sciences.
Milbert Mariano, PUC's vice president for academic administration and academic dean, will transition to dean of the School of Arts, Humanities & Professions.
Aimee Wyrick, an associate professor of biology, will become the dean of the School of Sciences.
"Each of these leaders is committed to PUC and its Christ-centered mission and will help us better serve our students and build a bright future," President Ralph Trecartin said. "I am proud of their accomplishments and look forward to working with them as they lead the three new schools."
The three school deans will:
Advocate for their school's programs.
Innovate in curriculum, new programs, and classroom technology.
Manage efficiency, program growth, and departmental needs.
In addition to saving money as part of the restructuring, the three-school model will offer PUC students a modernized, simplified, and Christ-centered college experience on campus and beyond. The college aims to increase the accessibility and flexibility of course offerings while running fiscally responsible, sustainable programs and creating the capacity for growth.
Discussion about the new schools began a year and a half ago among leadership and several academic committees. But the plan rose to the top and took on greater urgency as part of PUC's recent financial and vision realignment.
The Board of Trustees approved the plan in February, and because of the short time frame, strong internal candidates were chosen to lead the schools. If and when there are future vacancies in these positions, PUC will develop a formal search process and evaluation for the new deans.
Trecartin praised each dean's willingness to take on the challenging new roles.
Dunker has the "energy, enthusiasm, and persistence to lead a wonderful team" in the School of Nursing and Health Sciences, Trecartin said. "Her leadership as chair has led the department to tremendous achievement and growth," he said.
Mariano voluntarily expressed interest in leading the new School of Arts, Humanities & Professions. Trecartin said the new post allows Mariano to continue serving and guiding a variety of majors with a special emphasis on honors classes.
"I have endless gratitude and appreciation for his dedication to PUC," Trecartin said. "We aren't losing his wisdom. This position will let him continue his passion and care for people, and he will remain a trusted counselor. His leadership has blessed us in difficult times."
Wyrick brings a wealth of experience to her role, and Trecartin said he appreciates her "wisdom and knowledge in helping students have experiential learning opportunities."
"Her interest in building programs and willingness to try new aspects of science at PUC is something we as a leadership team valued," Trecartin said.
The three new deans said they look forward to the work ahead and where God is leading PUC.
Dunker already oversees one of PUC's successful academic programs and said she wants to build upon those successes as dean of the School of Nursing and Health Sciences. She said she will continue seeking outside funds and representing the school within the PUC community and beyond.
"I am hopeful that as the dean, I will be able to represent my programs at the president's cabinet when they are being discussed," Dunker said. "I will also plan to represent my school in seeking funds for our programs from outside entities."
With more than two decades of nursing experience, Dunker previously held academic positions at the Fortis Institute in Nashville and her alma mater, Atlantic Union College.
She has taught in pre-licensure medical-surgical nursing, nursing research, RN-BS courses in informatics and nursing leadership, and master's level nursing education and leadership courses.
Dunker's core values focus on student outcomes, retention, and academic and clinical faculty satisfaction and development. In addition, she is a SIGMA adviser and author for new nursing educators.
Mariano said as PUC developed the three-school model, he became intrigued by the role of the dean of the School of Arts, Humanities & Professions, in part because of his past experience as a visual arts professor. He started teaching at PUC in 1995 and served as the chair of the Visual Arts Department from 2006-2018.
"Now, after four years of serving as the academic dean, I am ready for new professional opportunities, and I believe that this is the ideal time to make a change," he said. "I felt called and excited about the possibilities, and that's when I started a conversation with Dr. Trecartin about transitioning to a new role."
Lindsay Morton, the associate academic dean, will succeed Mariano as vice president of academic administration and academic dean.
NEW ACADEMIC DEAN: PUC Names Lindsay Morton as New Academic Dean
As the school's dean, Mariano said he will support students and faculty, not just with administrative duties, but in promoting and innovating their experience.
Mariano's tenure as academic dean started at the cusp of the COVID-19 pandemic. He said he is proud of how the entire campus worked to pivot and innovate during those unprecedented times.
Wyrick said in her new role, it is important for her to support the school's faculty and encourage them in their research and as they develop new programs for students. v
"As faculty, we enjoy the daily routine and the time in the classroom with students – that is why we're here at PUC! Most of us are also brimming with ideas, and I look forward to finding ways to help faculty find the space to access their creativity and pursue projects they find interesting," she said.
As a biology professor, Wyrick has specialized in ecology, herpetology, and paleontology. She advises in biology, pre-dentistry, and pre-dental hygiene. She has also worked as a research coordinator, instructor, and course coordinator for the University of Montana.
"Faculty need and deserve encouragement and meaningful support from administration to reinvent curriculum and to develop new research or other relevant projects for our students," Wyrick said. "I look forward to the work our team will do on behalf of our college, church, and God."
Search
Keywords
Archive
PUC in Outside News
Campus Updates