PUC biology students partner with Elmshaven to create educational arboretum experience on historical property of Ellen G. White
By Staff Writer on January 18, 2022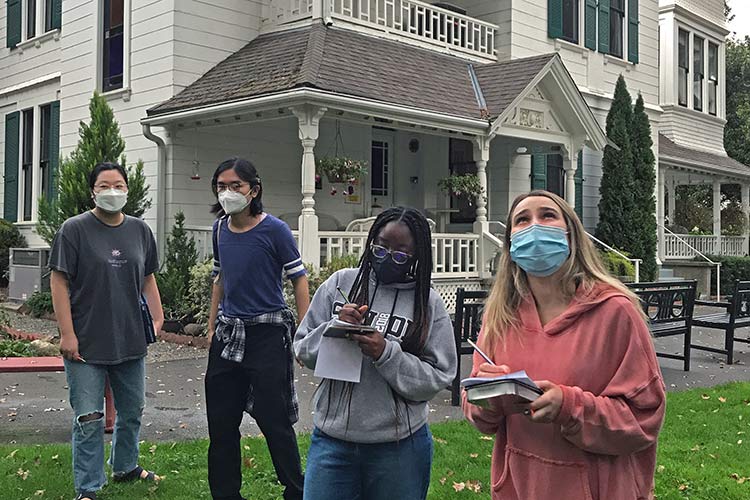 Students in the Department of Biology at Pacific Union College recently partnered with Elmshaven to create an educational arboretum experience through identifying, measuring, and mapping the large collection of trees on the five-acre property.
Elmshaven, the historical home of Ellen G. White, is located near the Napa Valley city of St. Helena and hosts many tours and visitors annually. White named the property for the number of Elm trees that once graced its landscape. Currently, an estimated 200 trees of around 50 varieties reside in Elmshaven. According to Elmshaven manager, Abner Castanon, at least two trees still on the grounds were alive when White lived there. Although he is familiar with the trees on the property, he hasn't been able to give the exact number, variety, or name to the many interested visitors.
"This is a wonderful project," Castanon says. "Having this information, I can be of better service to visitors that come and ask these questions; knowing the trees will make me a better caretaker and tour guide."
In early December 2021, initial field work had been completed, including mapping out the property via a GPS program and naming the trees and their locations. One of the project goals is to establish identifying markers by each tree supplemented by an informational brochure for visitors. The project is set to be completed by Spring or Summer of this year.
Dave Yancey, who calls himself a passionate lover God's nature, was the catalyst behind the project after wondering about one of the Elmshaven trees. Several months ago, he contacted Elmshaven managers, including Castanon, and the chair of PUC's Biology Department, Aimee Wyrick, with the idea.
"I must say, the joy of working with the PUC students has been unequaled," Yancey says. "These young people are all stars in my book. It was really Aimee and her students who are the example of real-life learning and the joy of giving back to historical Elmshaven where people from all over the world come to visit the home and property of one of the most honored figures in the Adventist church."
Wyrick says PUC's many departments, like the Biology Department provide opportunities for students to expand their learning and skillsets beyond their major and minor studies.
"While the students in this project are predominantly pre-med, at PUC they get to do real-world projects that augment the traditional academic program and their preparations for medical school," Wyrick says.
Search
Keywords
Archive
PUC in Outside News
Campus Updates