'God Provided Everything': PUC Professor, Students, and Grads Serve in Medical Mission Trip to Indonesia
By Laura Gang on August 4, 2022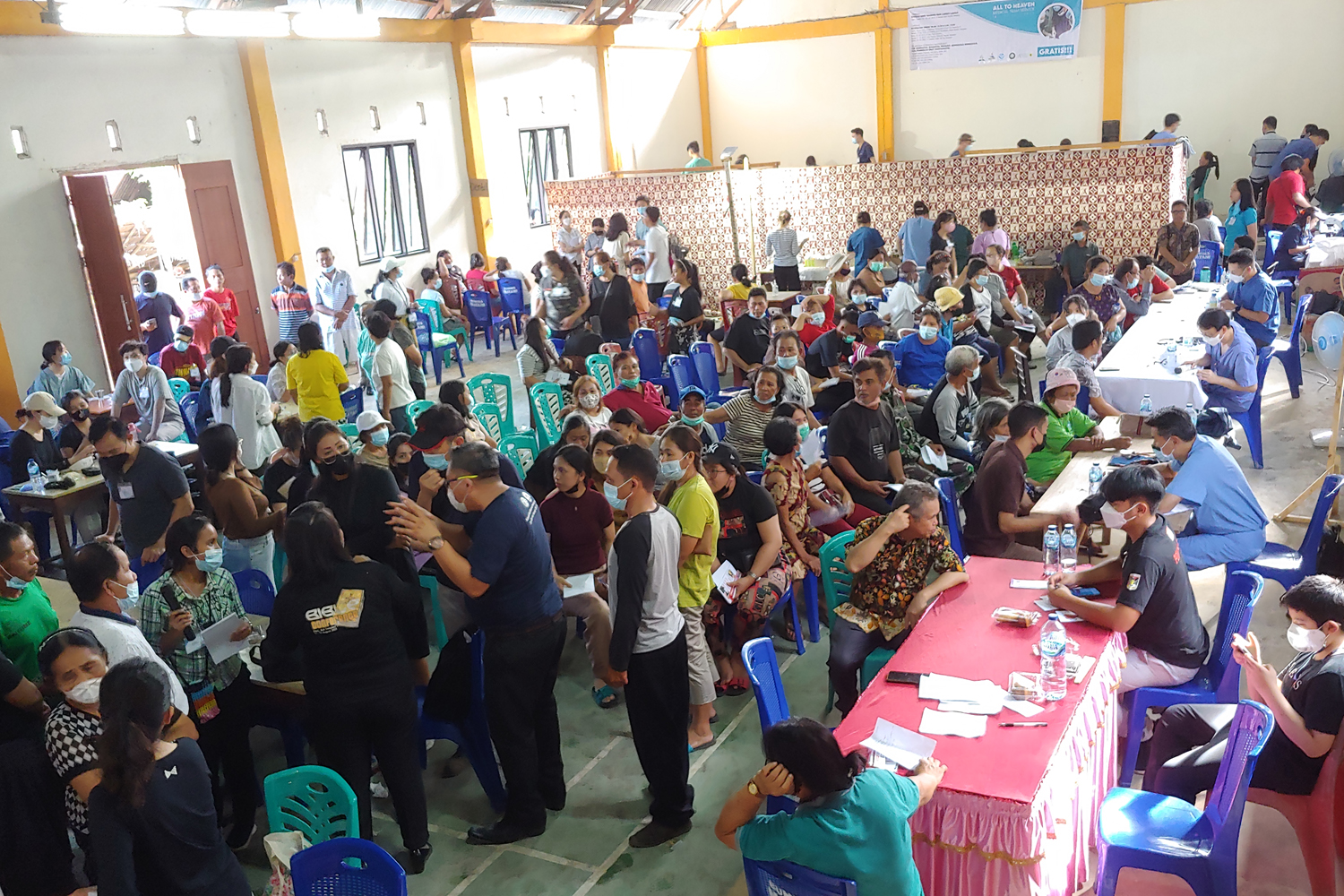 Mission trips were one of the casualties of the pandemic. Due to worldwide travel restrictions, many remote areas desperate for aid were cut off from receiving medical care, needed supplies, and equipment.
As travel restrictions began to lift, a group of medical professionals from the United States, Australia, Malaysia, and South Korea along with 21 students and volunteers began planning a mission trip to Indonesia. Many were Pacific Union College students, staff, and alumni.
Dr. Backsil Sung, professor of biology at Pacific Union College, has been on many medical mission trips. Planning for this one presented new challenges, but also providential surprises. "God provided everything for this trip," Sung said. "He opened the country step-by-step."
When the group initially began planning, Indonesia had only recently opened specific areas to foreign tourists. One month later, Sung said, the country opened remote regions. Within the next month, they lifted the PCR test requirement, and then one for travel insurance. Finally, Indonesia accepted visas on arrival without any other major requirements.
Dr. Sung said God also helped provide $50,000 from friends and other supporters which, except for airfare, covered all the necessary expenses for patient transportation, medicine, equipment, supplies, and materials.
The large donation also covered the group's room and board at 1000 Missionaries -- a Seventh-day Adventist missionary training center in Manado, capital of East Indonesia's Sulawesi Province on Celebes Island.
With the 1000 Missionaries center as its base, the group traveled every day to a different remote region in Sulawesi and ministered to patients through medical care. Dr. Sung said the group included seven medical doctors, seven dentists, three physical/occupational therapists, three nurses, and one lab tech. More than half of these medical professionals are PUC graduates.
Medical services included providing prescriptions for medication, injections for chronic joint and muscle pain, and the removal of skin masses. Within the one week, they were there, they repaired cleft lip/palates for 15 patients.
"It was very emotional to see the cleft lip/palate patients' parents weep when they saw their faces fixed by surgery," Dr. Sung said.
Dr. Sung said it was meaningful for the people in these Indonesian communities to feel support from their international "brothers and sisters" who cared for them. Students on the trip learned about the value and priority of serving others.
It was a "great blessing," said Dr. Sung, that they had a wonderful speaker who had meaningful devotional messages each morning. Sung said the response was powerful. "I could see all the members humbled themselves … and cooperate together. There were no quarrels."
The blessing then was two-fold: not only were Indonesian patients blessed through receiving care but the missionaries themselves in the giving of service.
PUC student, Breanna Tran said the mission trip was "amazing." "I am really grateful that Dr. Sung gave us an opportunity to serve in this way," Tran said. "On this trip, we met so many people, made new friends, and learned about a culture that was so foreign to us in the beginning. God taught me so many new things and just expanded my capacity to love and serve God. I hope I can accompany Dr. Sung on his next medical mission trip and see who we serve next."
Search
Keywords
Archive
PUC in Outside News
Campus Updates