PUC Freshmen "Serve with Love" at Campus Food Packing Event
By Ashley Eisele on October 21, 2021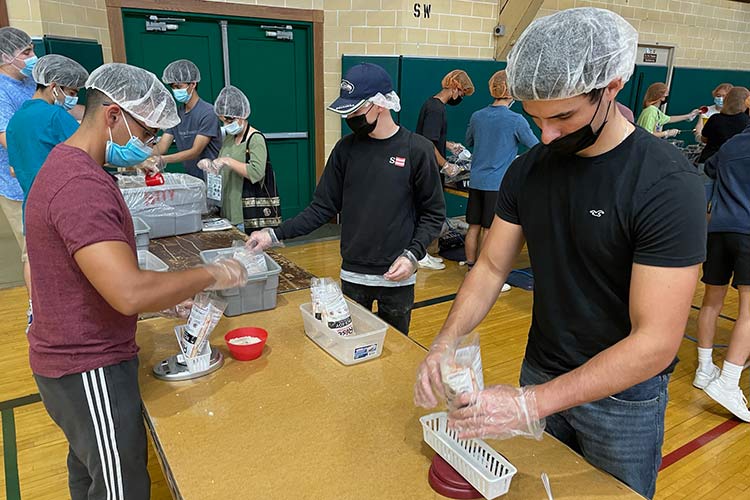 New freshmen at Pacific Union College began their school year by packing 20,088 meals for people facing food insecurity around the world. The food packing event was in partnership with Rise Against Hunger (RAH), an international hunger relief organization with whom PUC has partnered since 2013.
This year's event brought PUC's total to more than 80,000 meals packed, and is especially critical as global hunger is again on the rise, threatening millions of lives.
"PUC appreciates the mission and vision of RAH and what they do," said PUC Interim Vice President for Student Life J.R. Rogers. "They make it very easy to get a large number of students involved on our campus and make a huge impact. One box feeds one person for a year, and the least we can do is assist in purchasing food and packing it to help with food insecurity."
Meals from past PUC events have been distributed to communities in Vietnam and the Philippines, and the same is likely for these meals.
The opportunity to pack food for RAH was exclusively for freshmen as part of PUC's orientation, which they call Fusion. Fusion helps those new to campus get to know each other and get to know what college life will be like.
"Fusion really shows students what PUC is all about, and an event like this one so clearly brings to life our goal to 'learn with purpose, rise in faith, and serve with love,'" said Rogers. "Being able to 'serve with love' together like this is a great opportunity for establishing bonds with new classmates and makes the impact of the work that much more special."
Fusion included four days of events for freshmen that introduced them to campus clubs, student life, and much more. This was followed by the campus-wide Welcome Week that celebrated the entire student body's return to campus.
Welcoming the PUC family back to campus for the fall quarter held even more excitement than usual for faculty and staff at the college after months of remote learning and limited numbers of students on campus due to the COVID-19 crisis.
"It's amazing to have everyone here. It was difficult for them to be away, and very difficult for us to have them gone," said Rogers. "We will keep our safety guidelines in place as long as needed to keep our campus family healthy, but the feeling on campus is positive. The minute we opened the Rita Hoshino Campus Center for students on that first Monday morning, it filled up immediately and has stayed busy nonstop since. It's fantastic!"
Search
Keywords
Archive
PUC in Outside News
Campus Updates