PUC Sees Enrollment Growth in Fall 2020
By Ashley Eisele on October 13, 2020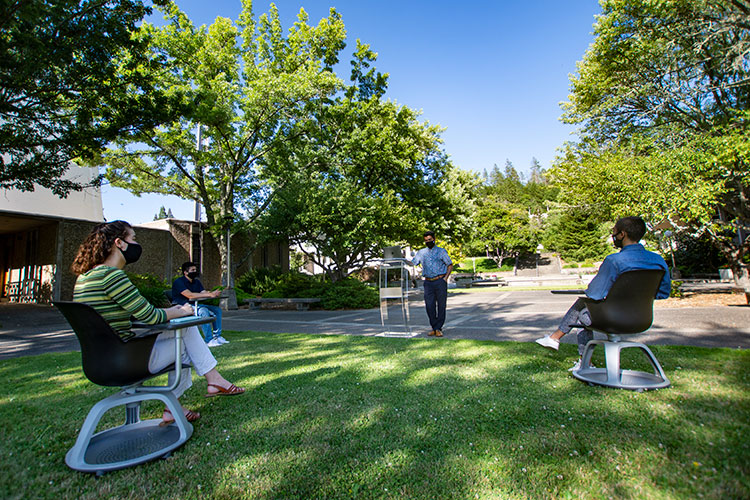 Pacific Union College (PUC) began classes this fall quarter with an increase in enrollment, breaking the nationwide trend of enrollment decreases. The college saw a 4% increase in overall headcount, while higher education institutions across the country saw an average 3.8% decrease.
The census date headcount for fall 2020 stands at 966, compared to 929 last year, and is the first enrollment increase that PUC has seen in six years. This is especially notable because of the global COVID-19 pandemic that is putting a strain on schools.
Although the causes of the increase are due to many factors, some of the more notable contributions to PUC's increase can be tied to an increase in transfer students, nursing students, students from the local area, and former students who had taken a break but have now re-enrolled.
"I'm proud of the significant efforts done by our admissions and marketing teams, as well as the support they received from the entire campus to create this increase. During the 2019-2020 school year, Pacific Union College began a well-thought-out, three-year turnaround plan. This plan, supported by the board, employees, and administration, is beginning to yield results. These positive results not only represent the hard work of our campus, but also stand as a sign of PUC's academic excellence," said PUC President, Bob Cushman.
PUC has continued its tradition of enrolling a diverse and spiritually active student body. A few highlights of the Fall 2020 student body include the youngest student enrolled at 16 years old, and the oldest student at 58. The majority of enrolled students come from the Seventh-day Adventist tradition, but more than 25% actually come from other denominational backgrounds. Currently, 85% of current PUC students call California home, and around 3% are international.
This year, PUC's student body is 30% Hispanic, 22% Asian, 22% White, 8% multi-racial, 7% Black, 1% Native American or Pacific Islander, and 10% reported themselves as Other.
Along with their traditional students, PUC also welcomed 24 high school students this fall for a free online class. "While moving online last spring, we decided to take advantage of the opportunity and offer one free class to graduating high school seniors," said Haley Wesley, PUC's Associate Vice President of Enrollment, Marketing, and Communication.
This online program was a success in spring with about 65% of those first-time students enrolling full-time as regular students at PUC this fall. "Our excellent faculty were able to give these introductory students a great experience, which brought them into the PUC family permanently! Because of the overwhelming success, we are continuing this program into the 2020-2021 academic year," said Wesley.
"We are proud of our growth, and especially the reversal of the 6-year downward trend in enrollment," said Gene Edelbach, PUC's Vice President of Enrollment, Marketing, and Communication. "Doing all this during the time of COVID-19, and challenging nationwide enrollment declines, says a great deal about the positive direction in which PUC is now headed. We have exciting plans to continue this growth with or without COVID. The significant difference we've seen is thanks to the buy-in across our campus in the turnaround plan, as well as the resilience of the PUC family during our difficulties, and the concentrated campus-wide efforts and incredibly hard work of our enrollment, admissions, and marketing teams. We are grateful for all the prayers, support, and encouragement we've received--God's blessing and intervention are truly paying off.
Search
Keywords
Archive
PUC in Outside News
Campus Updates