PUC Wins Cal Pac Championship With Freshman Justin Roosma
By Elisabeth Unsworth on December 3, 2019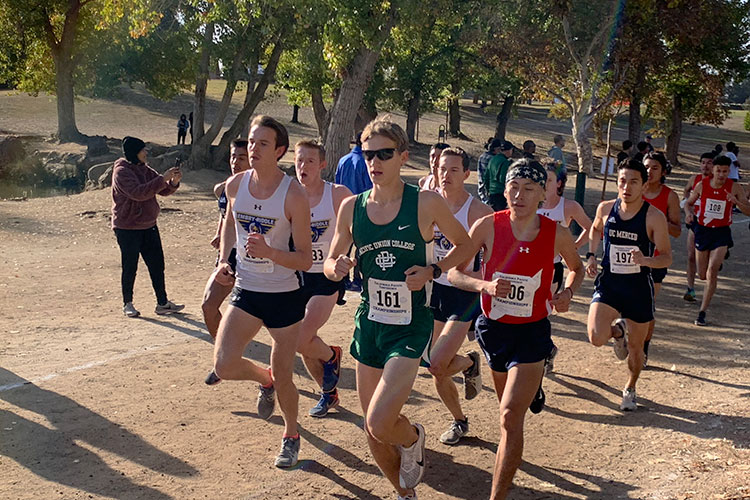 This story was originally published in PUC's Campus Chronicle.
On November 1, 2019, freshman Justin Roosma won a record-breaking first place in the Cal Pac championships. Competing against 81 competitors from 11 different schools, Roosma won first place in the 8k race by three seconds. Not only did Roosma win the Cal Pac championships, he also broke a Cal Pac cross country record with the time of only 24:56.5—the fastest in Cal Pac history. Additionally, Roosma is the first freshman and PUC athlete to win the Cal Pac title.
The Championship
The California Pacific Conference Men's Cross Country Championship was held at Woodward Park in Fresno, California. The race was initially led by Santiago Hardy from Antelope Valley and Grady Kerst from Embry-Riddle. Half-way through the race, Roosma quickly advanced from the middle of the pack to the lead. Roosma not only won the Cal Pac title by a whole 16 seconds, but also qualified for the NAIA Championships.
This Cal Pac championship was the fastest in Cal Pac history. This was the first time that two runners crossed the finish line in under 25 minutes. The 2019 Cal Pac Championship now holds the fastest times ever recorded, with Pacific Union College, Justin Roosma, in the lead.
This is PUC's first individual Cal Pac championship title. Previously, only Men's Basketball has held a Cal Pac championship title. This is the first Cal Pac championship win for the cross country team, and the second overall win in PUC history.
A Record Breaking Season
This isn't Roosma's first win of the season. Roosma also won second place at the San Francisco State Invitational, and first place at the Pioneer Cross Country Invitational in Angwin. His team mates describe him as a "hard-working" and "motivated runner." Teammate Marci Amurao says, "When you see Justin run, he makes it look easy. However, do not let this appearance
of effortlessness fool you, Justin works incredibly hard." She continues by mentioning, "The best part about Justin is that his efforts produce amazing results, he is truly inspiring."
The San Francisco State Invitational meet was a big accomplishment for Roosma. On October 11, San Francisco State hosted the meet at Golden Gate Park. It was a large race including 13 well-known schools from the NCAA such as Biola University and San Francisco State. Around 100 athletes participated in the 10k with Roosma. During that race, Roosma ran with the front pack for most of the time. He focused on pacing himself at first, then broke off in the last half mile. Roosma says, "The race was a good challenge with a pretty rough course, containing a lot of hills. I was really happy on how I executed that race. I kept a good pace the whole time and it was good to stay with the pack and manage my limits. I took home second place in that race."
Roosma also won first place and set a course record early in the season at his very first meet hosted in Angwin. Although the race was relatively small and composed of around 25 men from PUC, Cal Maritime and Sierra Nevada, Roosma was content with the outcome. Roosma notes, "I was by myself, in the lead the entire race and happy with how I performed. I did win first place in that race, I didn't push myself too hard, and the competition was a good start to the season." From then on, Roosma continued his winning streak throughout his season.
The Running Lifestyle
Originally from Walla Walla Washington, Roosma was excited to join PUC. Roosma was excited to move out of state and start a new adventure. With a consistent interest in running, Roosma notes, "My uncle and sister first got me into running. My sister was really passionate about sprinting. I tried sprinting, but discovered that I really didn't have the knack for it. I eventually figured out that I preferred long distance running and am excited for my new adventure on the PUC cross country team."
Roosma is quick to give credit to his vigorous training methods, and his coach Dan Muhic. The cross country
team trained Monday through Friday with an interval of low and high density practices. Roosma also goes for runs on Saturday and Sunday to really push himself. Additionally, Roosma mentions that running is not just about practices, but is also about emotional and nutritional health. Specifically he notes, "Running is not just a sport, it's a lifestyle. It's what you eat, what you train for and what you focus on." He also credits his coach's efforts by saying, "Coach Muhic takes time to care about his athletes over his ego. He always makes sure to assess our injuries and keep us in good shape. He is also very good at organizing an effective training schedule for us. He truly is passionate about the sport and that passion transfers onto us."
Although the cross country season is over for the Pioneer team, Roosma will go on to compete at nationals. Roosma will be the first PUC student to run in nationals on November 22 in Vancouver, Washington.
For more information on the races and Justin Roosma visit the PUC Pioneers website. Make sure to support your Pioneers and congratulate Justin Roosma for his record-breaking season! Go Pioneers!
Search
Keywords
Archive
PUC in Outside News
Campus Updates