Pioneer Connect: PUC Prepares to Launch New Alumni Platform
By Sarah Tanner on November 13, 2018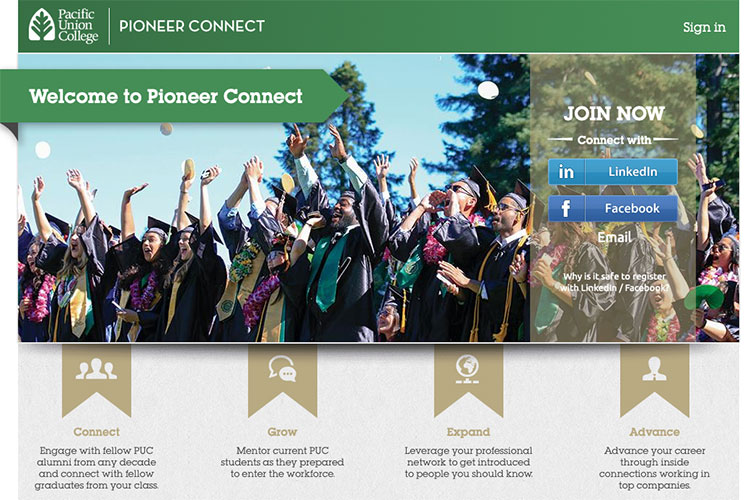 Pioneer Connect is the result of roughly two years of brainstorming, planning, and organizing by members of PUC's alumni and advancement office. When asked to describe the background and reasons for Pioneer Connect, Nic Miller, a database manager for PUC, leaned back in his chair and nodded.
"Two summers ago, we really started thinking about a platform or point of connection for our alumni to get in touch with junior and senior students preparing to enter their professional careers. We are located only 70 miles north of all the amazing tech innovation in the Bay Area, and that realization really sparked the idea of connecting with our alumni, not just there but in all fields," he explained.
In seeking out methods to bring Pioneer Connect to life, Miller explained they came across Graduway, a vendor that provides predeveloped platforms for alumni management. It was perfect. In avoiding development costs, PUC was able to invest in the platform and officially began piecing together what would ultimately become Pioneer Connect.
"Once the site was up, we decided to run a pilot program with a select group of alumni, and their initial reactions have all been positive," Miller smiled.
Similar to sites like LinkedIn and Facebook, members of Pioneer Connect can post status updates or share photos, but the platform's biggest draw is it provides a venue for professional PUC alumni to share advice and give inspiration for workplace success, as well as encourage students as they begin working toward careers after graduation.
Regarding the website's mentorship angle, Miller explained, "Especially younger alumni recognize the value of a site like this. They remember being in these students' shoes only a few years back and they think it is a phenomenal opportunity to give back to PUC."
And while Pioneer Connect is yet to be fully operational, the alumni and advancement office is working to inform staff, faculty, alumni, and donors of its upcoming reveal. The last step in this process will be to fully advertise it to all students and alumni, but there are a few details that need to be ironed out before the site can go live.
"We're waiting for the vendor to complete their updates on the system. We hope by the time it is done, it will look like a sort of LinkedIn and Facebook hybrid," recounted Miller. "We don't want to let it go before it looks totally polished and professional, and is easy to navigate for members. Ultimately, the update should be done over the next quarter."
Alumni and advancement hopes to parallel Graduway's timeline to make the site available as soon as possible.
President Cushman articulated his vision for the website, saying that Pioneer Connect supports PUC's strategic initiatives in the key areas of "Our Students" and "Our Relationships."
"The strategic theme titled 'Our Students' is about providing more intentional educational and career opportunities," he explained. "Pioneer Connect offers students additional opportunities to connect with alumni and potential employers for internships during their time at PUC and for employment opportunities after they graduate. Likewise, Pioneer Connect supports the strategic theme of 'Our Relationships.' Initiatives within this theme are all about building and improving relationships with our alumni and our community to further enhance the sustainability of PUC. Pioneer Connect helps us identify people who may not be engaged with PUC in other ways or venues and it allows them to connect and interact with fellow alumni."
In all, the goal of Pioneer Connect is to involve as many people as possible. Through the site, PUC hopes to create a more connected group of alumni and to pull people in who may have wanted to keep in touch with the college but did not know how.
It is a celebration of the talents of students and of alumni alike, and as summed up by Miller, "Everybody has an angle in which they can mentor a student, and we're here to help make those connections."
Those interested in joining Pioneer Connect are encouraged to explore the current website, pioneerconnect.org. However, it is important to keep in mind the impending changes will make its navigation and use much more streamlined in the upcoming months.
Search
Keywords
Archive
PUC in Outside News
Campus Updates