Peter Katz Honored as PUC's 2018 Educator of the Year
By Larissa Church on April 10, 2018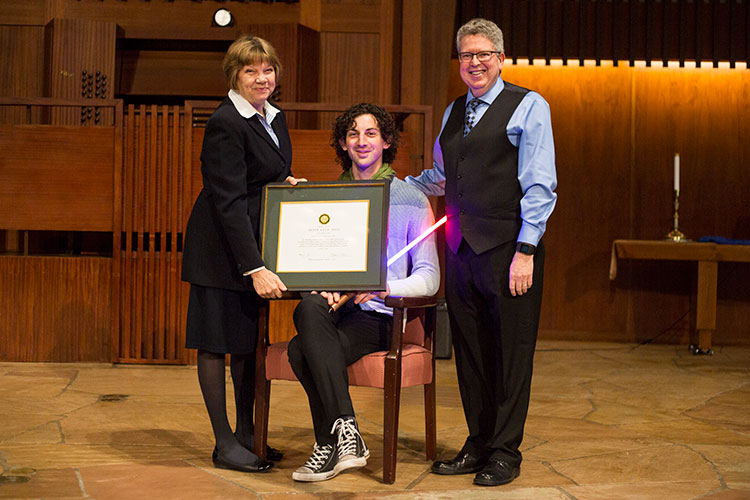 Prolific author of academic articles. Honors program faculty member. Amnesty International faculty sponsor. Campus philosopher. Ninja warrior. Community cat whisperer. These are just a few of the descriptions of Dr. Peter Katz that were shared when he was named the 2018 Educator of the Year. During the annual colloquy program at Pacific Union College on Thursday, April 5th, students, faculty, staff, and administration celebrated with Katz as he was recognized with the award for the first time. An 2010 alumnus of the college with degrees in English literature, European history, and music, Katz has taught at PUC since 2015 and currently serves as assistant professor of English.
Each year, the Educator of the Year award is selected by student vote. The recipient's identity is a closely-guarded secret only known by a small, select group of people before joining an impressive list of past winners whom have all left an incredible mark on PUC and the lives of countless students.
"I love seeing the students choose a new, young faculty member like Peter as their Educator of the Year," says PUC academic dean and vice president for academic administration Dr. Nancy Lecourt. "He is challenging them to work hard and think in new ways about difficult ideas."
As is custom, last year's titleholder Dr. Kent Davis gave a short address before he revealed the 2018 award recipient and, as part of a more recent tradition, knighted Katz with a toy lightsaber. Kent reminded students how fortunate we are as a college community to get to learn things, and encouraged them to shift their perspective from "Do I have to know this?" to "Do I get to know this?" and valuing life-long education. Davis has taught at PUC since 2002 and currently serves as a professor of chemistry as well as the chair of the department of chemistry. Coincidentally, it was also Davis' birthday and the audience enthusiastically joined his wife, professor and chair of the department of music Dr. Rachelle Davis, in singing a rousing rendition of "Happy Birthday."
Katz's wife, Ariane, narrated a slideshow of his life over the years. She shared stories and anecdotes of how they met at PUC, places they have lived, various trips they have taken, and unique hobbies he enjoys, all of which provided insight into what makes Katz the impactful professor he is today.
Senior English major and Maxwell Scholarship recipient Dominique Townsend gave a hilarious tribute to Katz. As his teaching assistant, she jokingly chastised how often he leaves her without work because of his commitment to provide his students with the highest level of support and feedback, and called him "the worst delegator I've ever known." She also teased Katz about his height, saying she has to wear a neck brace during his lectures so she can look up at him for the entire class period. Townsend spoke of Katz's love and dedication to his students, saying, "Peter goes above and beyond for his students, coworkers, and hyper anxious, overactive TA. He's always there when we need to chat, by which I mean show him cat memes, and pushes us to stay on our toes intellectually."
The audience also heard from several faculty members who work with Katz, all of whom spoke glowingly about him. Dr. Sara Kakazu, professor of English, shared how as a new professor at PUC while Katz was a student she was already intimidated by the prospect of teaching such a bright pupil. Instead, she found him to be charming, insightful, and engaging, and too polite to point out she may not have known exactly what she was doing. Kakazu noted several other things set Katz apart besides his manners; like his "advanced scarf-wearing skills" and the Lord of the Rings illustrations that would sometimes accompany his test answers. "I remember a student unafraid to be funny, to be strange, to be himself," she says. "He gave us things we as professors are glad to remember and gave us a person we are glad to know, as he does in a different way for his own students now. And this is unsurprising—who wouldn't want to take a class from this man?"
Dr. Maria Rankin-Brown, professor of English as well as the chair of the department of English and Dr. Linda Gill, professor of English, presented a commemorative acrostic poem about Katz and his qualities that had the audience roaring with laughter. They also shared interesting tidbits about Katz, their appreciation of him evident, and several anonymous quotes from students praising his classes. "We cannot think of any higher honor students can give to a professor. Peter is clearly gifted, but I also want to add he works hard to be the kind of professor he is. He does this not only by preparing for his classes and grading thoughtfully, but by actively engaging in the scholarship of his field," said Gill.
"Any successful class is a team effort between students, teachers across departments, and an institution that prioritizes education," Katz graciously explained when asked about the award. "I'm honored and humbled by this (probably undeserved) award, and want to thank the students back for their commitment to learning."
Katz now joins a special group of inspiring faculty, all of whom have blessed our Angwin campus with their unique approach and tireless dedication to education. We all look forward to a year from now, when Katz will introduce the next special faculty member that reminds us what it means to teach at PUC.
Search
Keywords
Archive
PUC in Outside News
Campus Updates