His Dream A Part of Theirs: Aviation Grad Manages Flight Training Center
By Becky St. Clair on December 27, 2018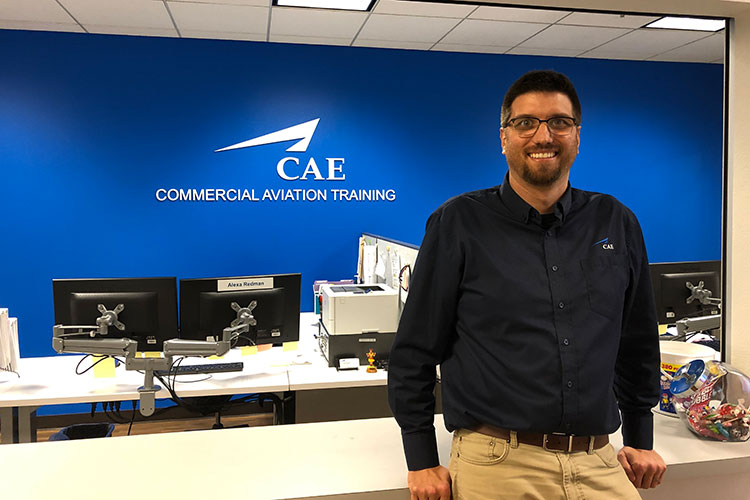 Jordan Wareham graduated from Pacific Union College in 2004 with three separate degrees: a B.S. in aviation, a B.A. in international communication, and a B.A. in Spanish.
As he headed into his final year at PUC, the college's registrar asked Wareham if he was going to declare aviation as a major as he had only two more classes before earning the degree.
"I never intended to pursue aviation as a degree," he admits; "I intended to pursue a career in international development, but I kept enrolling in aviation classes because I really enjoyed them."
Even though it meant a few quarters of extra credits, Wareham decided to go through with it.
Wareham always knew he would attend PUC, since his parents were professors at the college, but when it came time to make a real-life decision, the truth was he felt PUC was the best choice for him.
"They gave me the most flexibility," he says. "The only way I could complete three majors was to carefully schedule my classes; I don't think I could have done that anywhere else. They had the right programs, the right classes, and they facilitated the plan of study I was looking for. It was absolutely the right decision."
For two years after graduation, Wareham was working as a recruiter for a Christian school recruiting firm.
"The fact is I kind of always thought of airplanes as a hobby, not a career," he says.
That lasted until he was two years out of school and received a job opportunity to join CAE, a Canadian simulation technology manufacturer and pilot training facility, as a CRJ ground and flight instructor.
Over a decade later, Wareham would oversee the company's Tempe, Arizona, location as the onsite training manager, managing pilot training on four different types of aircraft: Boeing 737, Embraer ERJ-145, CRJ 200, and CRJ 900.
"A lot of my time was spent strategic planning," Wareham says, "but every day was variable. As training manager, I supported the training, provided resources for the instructors, worked through issues with the team, and developed training for use in aircraft training programs."
The most challenging part of working in the aviation industry, Wareham says, is trying to be creative within a regulated environment.
"You have to find ways to work within established parameters and still bring to fruition really great training and training materials," he explains. "You have to follow the prescribed rules for the field, but at the same time, you find ways to use the rules and be creative at the same time. It's challenging, but also exciting."
Despite his unexpected beginnings in aviation, Wareham feels he was given a solid start at PUC, with fundamentals that compare very well to those of his peers who graduated from larger, aviation-focused universities. In some ways, he says, the training he received at PUC prepared him even better.
"If you're going to be a successful pilot, you have to know how to fly in challenging conditions," says Wareham. "Flying off the mountain in Angwin provides that challenging experience, with gusty crosswinds, mountainous terrain, and landing at smaller airports without some of the support systems you'd find at larger ones. It makes you more on your game. PUC puts out very good pilots."
For many years, Wareham always wore his PUC lanyard when teaching, knowing that if any Adventists came through his classes, they'd recognize it. He was right; he met a few Adventist students because of that lanyard, and very much enjoyed making those connections.
Wareham admits going into the aviation training segment of the industry insulates pilots from some of the industry's down sides. He also points out that it's much easier to have control over your schedule, so there is less conflict with observing Sabbath.
But the best part of working in aviation training?
"We get to be a part of a lot of people's dreams," Wareham says. "Essentially, we're facilitating somebody's ability to go out and start their career in a profession they've loved for a long time and have dreamed of doing for much of their lives. We get to be a part of enabling success for them, and that's always meaningful for me."
If students are interested in aviation careers, there are plenty of options out there, Wareham attests. The mission field is always an option, as are firefighting, medevac flying, and private or charter aircraft operation for individuals and companies.
As of December 2018, Wareham is moving on to a new opportunity. He and his wife, Rachel, and their children Zoe and Joshua, will be moving to Honolulu, Hawai'i, where Wareham has accepted a position as manager of cross-fleet training and human factors with Hawaiian Airlines.
"I wouldn't be where I am, or have had the opportunities with which I have been blessed, without PUC," states Wareham. "Where you go in life has to do with what you do with what you have and how you contribute and build on your experience. PUC gave me a great foundation to move forward in a great career, I will always appreciate what a special place PUC is for me and my fellow alumni."
For more information about PUC's aviation program, visit puc.edu/aviation, call (707) 965-6219, or email gfhilton@puc.edu. To schedule a visit to check out PUC's airport and aviation program, go to puc.edu/visit, call (707) 965-6313 or email visit@puc.edu.
Search
Keywords
Archive
PUC in Outside News
Campus Updates