Class of 2018 Celebrated During Senior Recognition Colloquy
By Larissa Church on March 16, 2018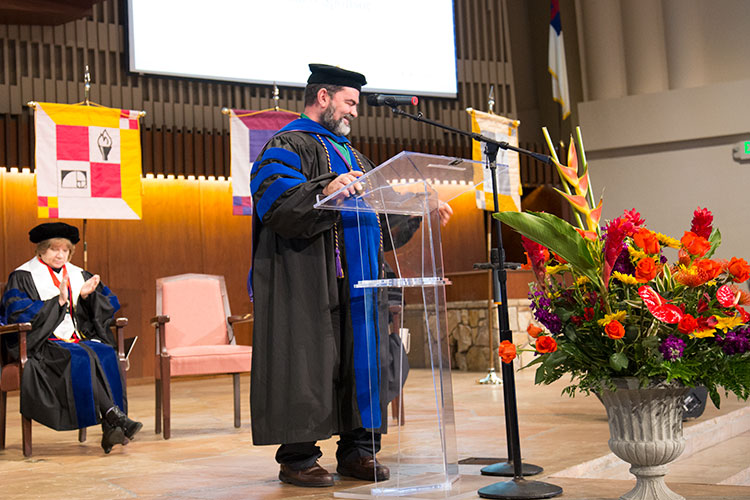 On Thursday, March 15, the PUC Church sanctuary was filled with the sounds of energy and excitement as the Class of 2018 was celebrated during Senior Recognition Colloquy.
After the processional, Dr. Bob Cushman, the college's president, offered his congratulations to the senior class, acknowledging their accomplishments during their time at PUC, and also extended a warm welcome to the rest of the congregation.
Dr. Kent Davis, chair of the department of chemistry, gave the morning's Scripture reading of 1st Corinthians 12:31, followed by a formal introduction of the Class of 2018 by Dr. Nancy Lecourt, academic dean and vice president for academic administration. As she shared statistics regarding the class, audience members cheered for their respective departments that were represented. Of the 265 soon-to-be graduates, 95 will earn associate degrees while 184 will receive bachelor's degrees. The top five programs are comprised of biology (17), communication (19), health sciences (21), business (29), and nursing (108). Approximately one-third of the class is receiving a degree cum laude, magna cum laude, or summa cum laude. The class hails from 17 different states and six countries from around the world, with the youngest being just 19-years-old while the oldest is 53-years-old. Dr. Lecourt praised the senior class on their achievements as she officially presented them to the campus community.
Senior class president John Jung introduced the morning's speaker, Dr. John Nunes, chair of the department of business administration and economics. His admiration evident, he warmly joked about all of Nunes' many titles and catchphrases, from "Professor Nunes" to "Papa Nunes," saying, "I believe we can all agree he's one of the happiest and most energetic professors on campus," as he introduced him as one of their "buddies for life."
In 2011, Dr. Nunes joined the college's faculty after over 25 years of professional experience, building and leading teams in sales, operations, and general management roles for privately-held and Fortune 500 companies. One of the most beloved professors on campus, he serves the students of PUC as not only a teacher, but also as a mentor, by involvement in things such as being senior class president and faculty advisor for Enactus, the club of the department of business focused on community service. He was recognized for all of his incredible contributions to the college in 2014 when he was named Educator of the Year.
Dr. Nunes energetically stepped to the stage, but didn't stay there long, choosing to stand closer to the senior class in the pews as he shared advice to help them prepare for life after PUC. He asked them to consider what they still hoped to achieve in the 90 or so days that remain until graduation, and then the 90 days after, and encouraged them to continue to be engaged while they were still here. Among the many tidbits of advice he offered, he recommended they "embrace the life of a learner" and actively seek to gain more knowledge post-graduation.
"You're getting ready to go out. I know you're ready. I'm going to miss you. You know what? As much as I'm going to miss you I'm even prouder of you because I believe in you. I'm enthusiastic about the Class of 2018 here at PUC," he said, asking the audience for an amen, which they loudly gave. He continued on, saying, "I'm enthusiastic about the difference you're going to make and how you're going to make the world a more wonderful one because you're part of the leadership driving it."
Search
Keywords
Archive
PUC in Outside News
Campus Updates