PUC Welcomes Speaker Scott Alvord and Other Professionals for Annual Career Day
By Andrew Mahinay on March 9, 2017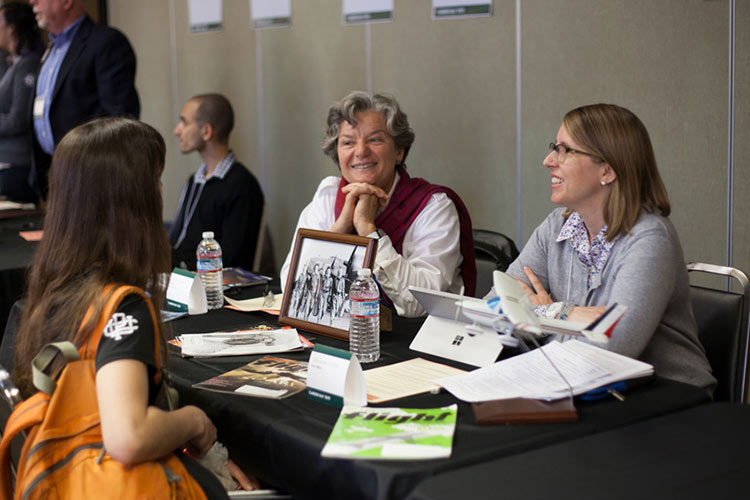 Pacific Union College welcomed entrepreneur, businessperson, and PUC alumnus Scott Alvord to speak for the Colloquy Speaker Series on March 2. Students were moved by Alvord's story of success, from a college student struggling to pay his tuition to currently serving on the Roseville City Council.
Lary Taylor, associate professor emeritus of business administration, introduced Alvord, noting he has been voted favorite local business person and favorite civic leader in the Reader's Choice awards for Style Magazine, a local publication for the area of Roseville, Granite Bay, and Rocklin.
Alvord stepped on stage with an authoritative yet welcoming presence. During his presentation, he emphasized the importance of valuing an education, not only because it provides a variety of career opportunities, but also because of the investment you're making. He encouraged students to strive for good grades. "God has put you here to enrich the world," Alvord said to the students and urged, "Become a person of value, not a person of success."
As a freshman at PUC, Alvord struggled to pay tuition. To his surprise and amazement, a mysterious donation covered his first year expenses, giving him the opportunity to take full advantage of PUC's education system. Money was still tight, however. His dinners often consisted of adding ketchup to ramen noodles, which he claimed "tasted like spaghetti."
As time passed, Alvord focused his time and energy on academics, resulting in earning a very high GPA during his time at PUC. After graduating, he then earned an MBA-MCA degree from Sacramento State University. From there, he went on to start several businesses and become very involved in the many facets of the city of Roseville. Alvord served as the president of the Downtown Roseville Merchants for nine years as well as on the executive board of the Roseville Coalition of Neighborhood Associations (RCONA), among many other professional endeavors. He also owned an award-winning restaurant that he operated for over a decade in downtown Roseville and even volunteered as a high school sports coach.
After years of involvement in the community, God led Alvord to run to be a representative for the Roseville City Council this past fall. After a long and arduous campaign, he was elected to the council.
Alvord's long history of success spurred motivation in students of all majors and ages. He ended by challenging students to, "Let your light shine ... We are all in it to shine, it's not just in some of us, it's in every one of us."
Following the Colloquy service, PUC hosted its annual Career Day fair in the Dining Commons. Over 50 working professionals, many of whom were PUC alumni, were on site to provide students with information about careers, internships, and potential post-graduation job opportunities.
Search
Keywords
Archive
PUC in Outside News
Campus Updates