Speaker Terrie Dopp Aamodt and Honored Guest Donald Blake Featured at Percy and John Christian Civil Rights Conference Center Lecture
By Dana Negro on April 20, 2016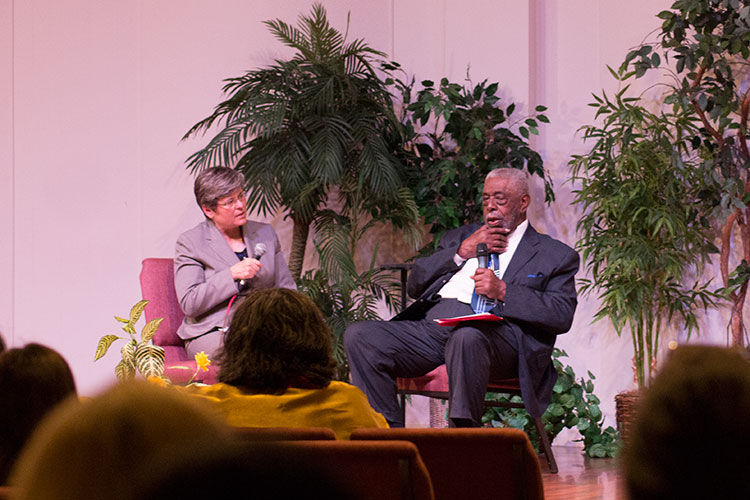 On April 14, Pacific Union College held the 2016 Inaugural Lecture of the Percy and John Christian Civil Rights Conference Center. The lecture entitled "Percy W. Christian and Adventism's Academic Jackie Robinson" was given by professor Terrie Dopp Aamodt, Ph.D., followed by a question and answer session with honored guest Donald F. Blake, Ph.D.
The Percy and John Christian Civil Rights Conference Center was founded to honor two influential Adventist educators who were fiercely committed to the goal of racial equality. As trained historians, Percy and John devoted their lives to strengthening Adventist education.
During his esteemed career, Percy served as president of Pacific Union College (1945-1950), Emmanuel Missionary College (now Andrews University), and Walla Walla College (now Walla Walla University). While president of WWC, Percy initiated the acceptance of black students. He also hired Dr. Donald Blake, the first black professor to teach at an Adventist institution outside of Oakwood University in Alabama. He is credited with integrating Adventist higher education.
John, Percy's son, was academic dean and professor of history at PUC (1972-1977, 1994-2000). Like his father, he was also deeply committed to racial equality. He also served as an influential professor at Walla Walla University, Atlantic Union College, Andrews University, and Columbia Union College.
The inaugural lecture was attended by many Christian family members, including John's daughter Jennifer Christian Newton and her husband Bradford Newton; their daughter Amanda, son Tyler, his wife Kristin, and their daughter Macy; as well as John's widow, Shirley Christian Utt and her husband Ted Utt.
Jennifer Christian Newton shared, "My mom and I have been dreaming, talking, planning, and working for over two years to find a way to honor my dad and grandpa and also have a way to continue their legacy of working for racial equality. Ultimately our hope is the Center, lecture series, and the research collection will enable former, current, and future students to learn from the past and take action to ensure individuals will not 'be judged by the color of their skin, but by the content of their character.'"
Each year, the Center will sponsor a lecture with the goal of examining the past, assessing the present, fostering positive action. This year, Dr. Terrie Dopp Aamodt, professor of history and English at Walla Walla University, spoke about honored guest, Donald Blake, and his inspiring career in education, calling him the "Adventist academic Jackie Robinson." She argued, "We must never forget what visionary leaders have done to show us the way to a more courageous future."
During the question and answer section following the lecture, Blake spoke about the obstacles he and his family faced during his early career and how his mother's strength and perseverance was an inspiration to himself and his siblings. His youngest brother attended the presentation and also shared stories about how their mother influenced on their lives.
While on campus, Dr. Blake visited with many PUC students and faculty members. He attended a business management class, a number of religion classes, and a special reception hosted by the department of biology. He also was the guest lecturer for the department of social work's Racial and Ethnic Relations class, where, "He shared his personal story and experiences of racism and discrimination, but also how his faith in God helped him triumph through adversity," said professor Allison Musvosvi. "Dr. Blake helped to shed light on the the nature of race in American society. It was truly a pleasure to have Dr. Blake in our class, his wisdom and message was very welcomed by the students."
Search
Keywords
Archive
PUC in Outside News
Campus Updates