PUC Celebrates John Collins' 28 Years of Service
By Dana Negro on October 21, 2016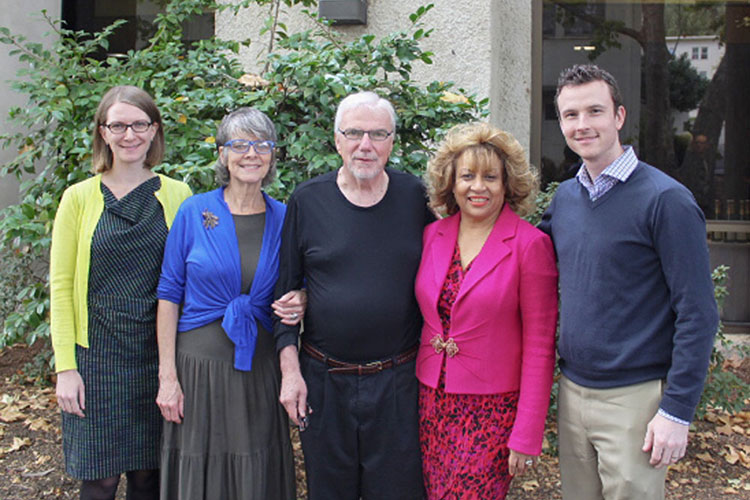 On Thursday, October 13, Pacific Union College faculty and staff along with friends, and family, gathered to celebrate the 28 year career of John Collins, vice president for asset management, who retired in September.
Collins' tremendous career at PUC began in 1988 where he served as vice president for student services and enrollment and later as vice president for financial administration. During the retirement celebration, colleagues spoke about John's influence on their careers and on them personally. "John was the person who offered me my first job out of college," said Michelle Rai, chair of the department of communication. "When I was a senior at PUC, John asked if I wanted a full-time job with the enrollment office. When I told him my dad probably wanted me to get a job back home in Hawaii, he personally spoke to my dad assuring him I would be well taken care of here," continued Rai. "After talking to John, my dad gave me his blessing to live in California and work for PUC. I told John I would commit to working for PUC for a year. 'How about two?' was his reply. That was 18 years ago."
Collins' life has been dedicated to bettering Adventist education and serving others, spending the early years of his career as a high school principal and business manager at Rio Lindo Academy and principal of Modesto Adventist Academy. For the past decade, he has been involved with nonprofit organizations, including an economic development corporation and a private foundation that focuses on philanthropy in education and he was board chair of the Archie Tonge Education Foundation, which provides grants and scholarships to worthy PUC students.
Over the years, Collins has touched many lives and has made a lasting impression. Doug Wilson, director of student activities, shared a story from his time as a student at PUC when he lost his backpack, books, glasses, and wallet. Collins jumped into action fixing his problem. "This was my very first interaction with John," he said. "What I've learned over the years is this is the kind of man he has always been, generous and faithful. An outstanding leader who modeled servant leadership and who put others first. He is an advocate for people. He has been a great mentor and someone I look up to as a leader. I hope I make him proud with my leadership. I will never forget his kindness."
John's retirement is a loss for PUC, but a well-deserved respite for him. He plans to remain in Angwin with his wife Rosemary, who continues to teach at the college as an assistant professor of communication at PUC.
Search
Keywords
Archive
PUC in Outside News
Campus Updates