Clearlake Homeless Ministry: A Blessing to All
By Amanda Navarrete on November 26, 2014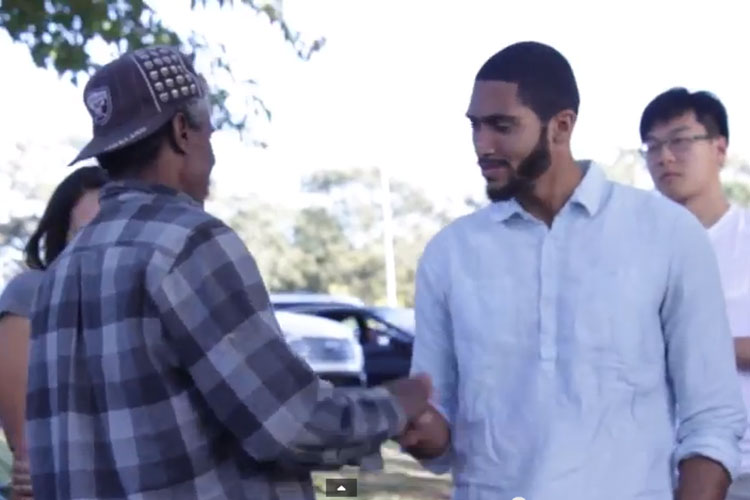 Pacific Union College students have many opportunities when making weekend plans: Vespers services on Friday, hikes on campus trails, trips to the ocean, and Student Association gatherings on Saturday night. For many students, service to others through Clearlake Homeless Ministry is an essential part of each weekend.
After Sabbath church services and lunch, students hop in to vans and make their way to Clearlake, a small town 40 miles from PUC with a large homeless population. This outreach began in the fall of 2012 with a senior theology major, Gresford Thomas, who saw a need in the Clearlake community. "Lives have been changed," says the ministry's sponsor, Gilbert Abella, a PUC librarian.
Each Friday afternoon, volunteers pack nonperishable food into bags to hand out behind a parking lot and at a park by Redbud Lake. The bags are filled with a variety of supplies, including donations from the school cafeteria and from Gott's, a local restaurant. Sometimes the group includes specific items that homeless individuals request. The ministry also makes calls for seasonal items, including coats and tarps in winter.
The team is led by Cristian and Shelina Villegas, who faithfully visit Clearlake each week and make sure the needs of the homeless are met. "We've become great friends with them now and are introducing them more and more to the love of God each time we visit," shares Cristian Villegas. "It's a mutual blessing each visit."
For some time, the blessing has included a warm meal as well as the bagged supplies. Vola Andrianarijaona, professor of physics, and his family began cooking a warm meal to share with the homeless. Instead of passing out the bags and leaving, the students now stay and talk to the homeless of while they eat together. "There is something special when people eat together," Abella explains. "Homeless have said beyond the food, they value the kindness and respect."
Angel Castillo, a junior, values the opportunity to learn form those in different circumstances. "I went four or five times and remembered names and faces, even though some didn't remember me," describes Castillo. "We receive more than we give them, and we can learn so much from the experience." Castillo stressed that the ministry's main focus is to befriend the homeless and feed them. He says their job is to plant the seed and introduce them to Jesus. "It's important to not feel fully responsible for these people," he explains.
Jonathan Goorhuis, a senior who has been involved with the ministry in Clearlake since it first began, calls the ministry a good opportunity for students. "It taught me how to treat everyone," Goorhuis reflects. He has made genuine friendships with the homeless of Clearlake, and receives a blessing each time weekend he goes.
While the ministry is already providing meals and friendship, the leaders larger goals they hope to reach in the near future. One pressing issue is the warming center – a facility that sheltered the homeless from the winter's cold weather and rain – which closed last year due to lack of funding. The team has been brainstorming and generating ideas on how to network with the community in hopes of reopening the facility. On November 12, Abella attended a meeting in Clearlake about the warming center. The community hopes to reopen the center at the beginning of December, but still lacks a facility.
Abella had nothing but praise for the PUC students involved in Clearlake Homeless Ministry, remarking that the students leave an example to the homeless of what is like to lead a life with the love of God. "The love that they have received has touched their lives and inspired them," he shares.
Search
Keywords
Archive
PUC in Outside News
Campus Updates