Rep. Mike Thompson Featured at Election 2012 Colloquy
By Giovanni Hashimoto on November 1, 2012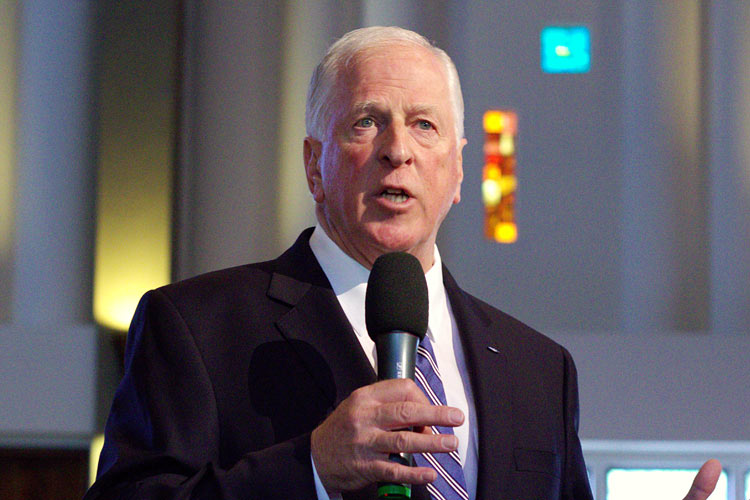 Pacific Union College hosted Rep. Mike Thompson for the Election 2012 installment of the Colloquy Speaker Series Thursday morning, continuing a focus on civic engagement on the campus in the run up to the 2012 General Election.
Quoting Dwight Eisenhower who stated that "politics should be the part-time profession of every man," Thompson urged students to involve themselves in the civic process and the upcoming election. "What happens in politics influences your day-to-day life," he noted.
Thompson noted the many issues at stake in this election that affects students particularly access to affordable, quality education and federal college aid.
"I happen to believe education is one of the most important things for the future of our country," he said. "What you're learning today, you're gonna put in practice tomorrow. The future of our country—our economic well-being, our national security, the health of our environment, the sustainability of our country, our principles and our values in part are going to be formed by what you and your colleagues across the country are learning today in schools, and it is so incredibly important."
Following his talk, Thompson fielded a variety of questions from students on a wide range of topics including the Patient Protection and Affordable Care Act, local measures affecting Napa County, and how to break the partisan gridlock in Washington. He also spoke with interested students individually following his talk. After his visit, he wrote that "the students [at PUC] were outstanding and asked great questions" and promised to "continue working to make sure students in our district have the resources they need to go to college."
Thompson has represented the Napa Valley in congress since 1998. In her introduction, PUC President Heather J. Knight noted his reputation as a moderate and his efforts at bipartisan cooperation.
Knight added that an election colloquy went well with the theme of the Colloquy Speaker Series, "Knowledge for a World Lived in Common." Urging students to vote and get involved this election, she said PUC's increased focus on civic engagement on campus is part of a wider agenda in higher education to promote citizenship among students.
"This election we're going through this year, I believe this is the most important election in my lifetime," agreed Thompson. "I think everything's on the table... What you do in this election speaks volumes where we go as a country and as a people."
"Less than 300 hours until polls close," he concluded. "Don't forget to vote!"
Search
Keywords
Archive
PUC in Outside News
Campus Updates