Academy Students Learn, LLA Tops Award List at Publication Workshop
By Larry Peña on September 13, 2012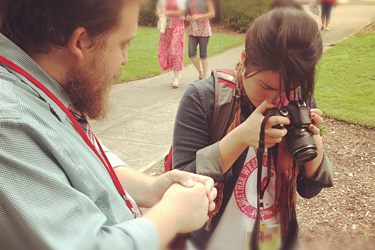 One-hundred eighty students from 23 Adventist academies visited PUC for the 2012 Publication Workshop on Wednesday and Thursday, learning writing, photography, and design techniques from college professors and working publication professionals.
"The classes have really opened my mind, and just what we've learned today has helped us come up with a great theme for our yearbook this year," said Brandie Scott from Mother Lode Adventist Junior Academy, a first-time attendee at Publication Workshop. "I love it so far—it has been amazing!"
High school yearbook and newspaper staffers chose from courses including photojournalism, layout, brainstorming, Photoshop, editor's forum, and feature writing. Teachers lead the eager students in many hands-on learning activities, from spreading out across campus to develop their eye for photo opportunities, to creating scrapbook-like mood boards to help refine yearbook themes.
"It's exciting to see the potential in these students and see their excitement in learning the subject," said Brian Kyle, a photographer and graphic designer in PUC's public relations office, who taught several photography classes at this year's program. "When you see them catch on it's a very fulfilling experience."
The event also included a contest that awarded the attending schools for outstanding work on their latest newspapers and yearbooks. Each school submitted samples of their publications ahead of time, and awards were presented at a program at the end of the workshop.
Loma Linda Academy won three awards—Best Newspaper, Best Newspaper Photography, and Best Video Yearbook. Other winners included Redding Adventist Academy for Best Yearbook; Mountain View Academy for Best Yearbook Writing; Hawaiian Mission Academy for Best Newspaper Writing; Thunderbird Adventist Academy for Best Yearbook Photography; Redlands Adventist Academy for Best Yearbook Layout and Design; and Mother Lode Adventist Junior Academy for Best Elementary/Junior Academy Yearbook.
Search
Keywords
Archive
PUC in Outside News
Campus Updates